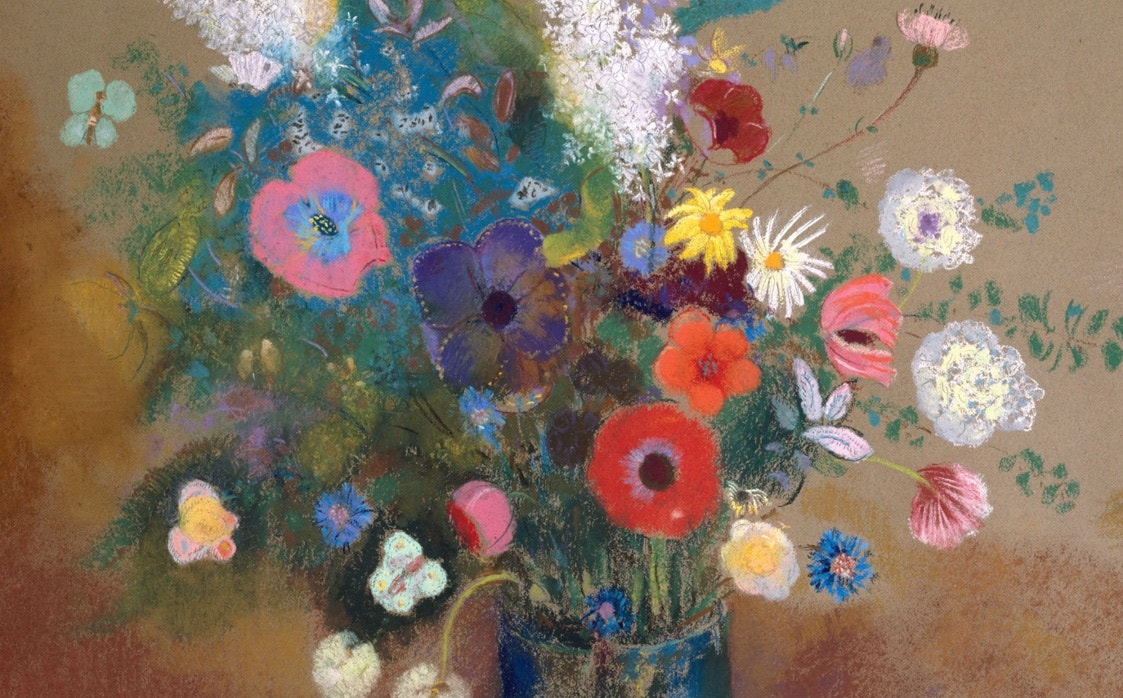 In honor of Redon's birthday, we're paying tribute to his fascinating body of work with a brief look at a few of his resplendent flower-themed paintings and pastels in The Met collection.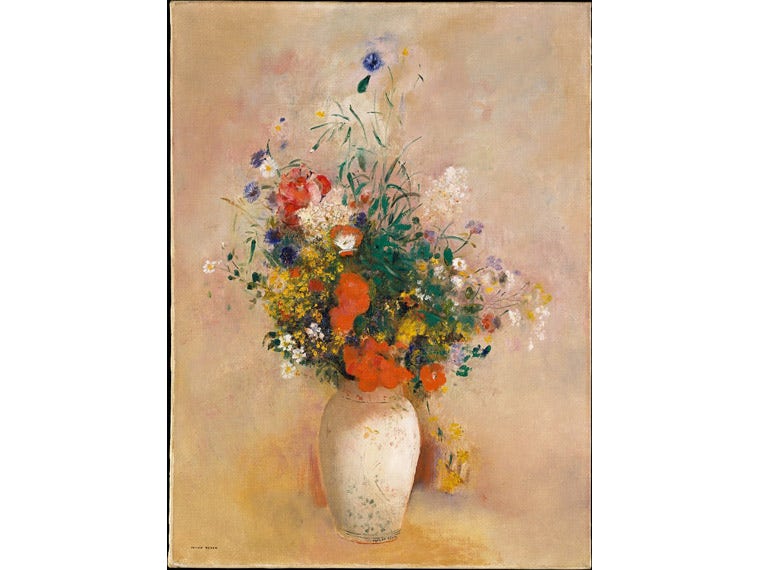 Redon was born Bertrand Jean Redon on April 20, 1840, to a wealthy family in Bordeaux, France. (To give some context, he was an exact contemporary of Claude Monet and Auguste Rodin, who were both born in November of that same year.) He would later use the name "Odilon" after his mother, Odile, a French Creole from Louisiana. He was a sickly child, spending much of his childhood apart from his parents in Peyrelebade, a village in the Médoc, where he relied on books, pictures, music, and his own imagination to pass the time.
Art historians often cite Redon's solitary childhood as a source for the dark, melancholic nature his works, which is most notable in the noirs, his black and white charcoal drawings and lithographs. He wrote, "Black is the most essential of all colors. Above all, if I may say so, it draws its excitement and vitality from deep and secret sources of health...One must admire black. Nothing can debauch it."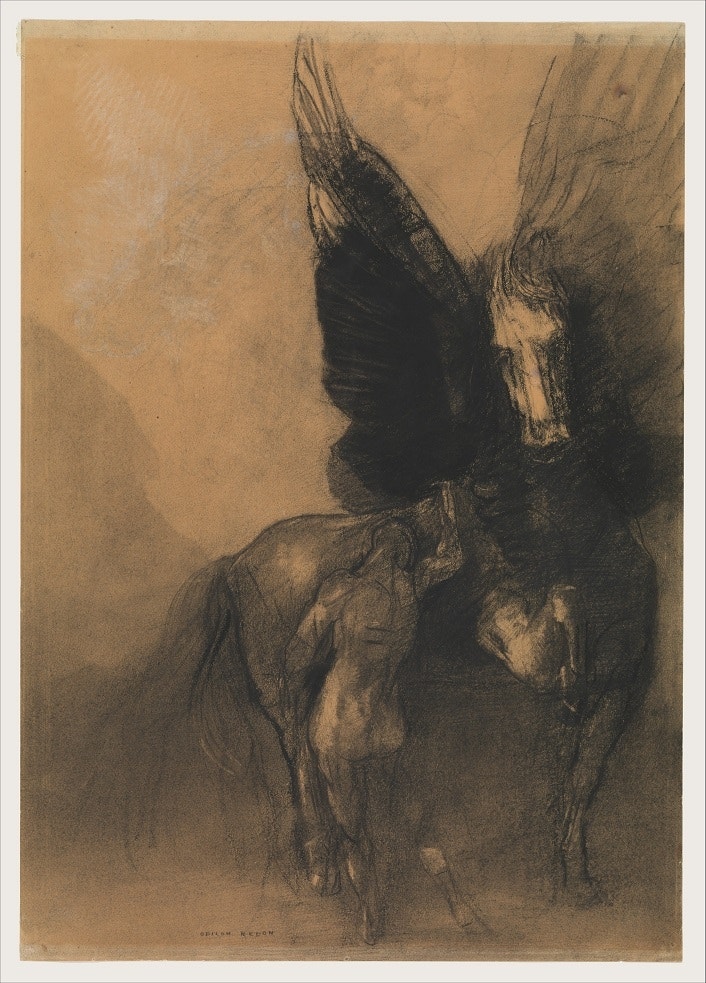 Indeed, much of his output before the 1890s was almost completely in black and white. Redon, then in his fifties, began to abandon his noirs in favor of colorful pastels and oil paints, proving himself to be a brilliant colorist. This can be seen in a number of works in The Met collection.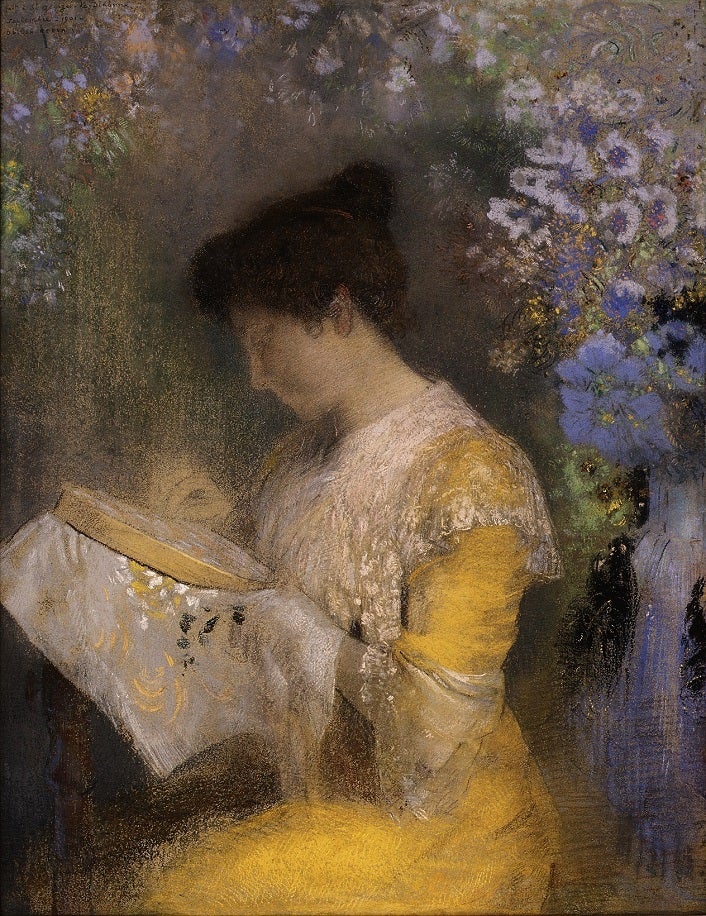 In Madame Arthur Fontaine (above), one of his finest and most finished pastels, Redon expands on the traditional portrait with his splendid use of color—yellow and lavender—and the profusion of flowers that fill the empty space above and behind the sitter. He executed this striking drawing in September 1901 when Madame Fontaine and her Parisian industrialist husband visited Redon and his wife at the seaside resort of Saint-Georges-de-Didonne, on the southwest coast of France.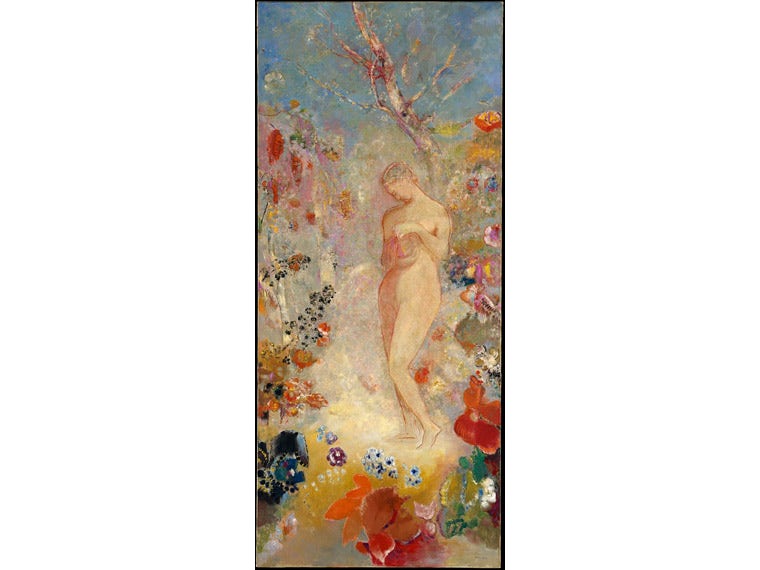 Painted near the end of his life, Pandora (above) is among the many representations of beautiful women from classical mythology that Redon produced between 1908 and 1914. He referenced mythological subjects, along with those from the Bible and literary works (the stories of Edgar Allan Poe were firm favorites), throughout his career, giving them his own particular spin. In the Museum's oil painting, Pandora is depicted just before she opens the infamous box and unleashes all the evils of humanity on the world. Recalling Eve in the Garden of Eden, she is nude and in state of perfect innocence, surrounded by Redon's ethereal blooms.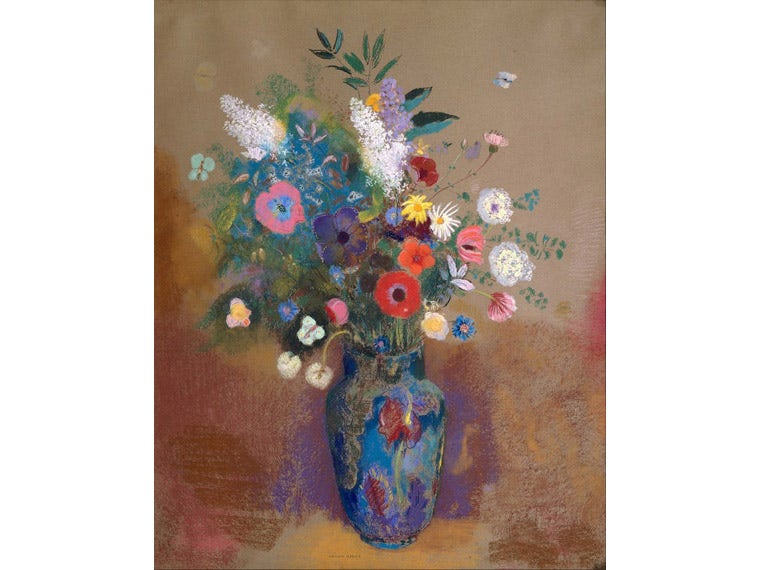 In the Museum's Bouquet of Flowers (above) Redon—who enjoyed a close friendship with Armand Clavaud, the curator of Bordeaux's botanical gardens—approached the work with a naturalist's sense of wonder. He employed his wonderfully fertile imagination by combining many different types of blooms and foliage—what appear to be lilacs, poppies, daisies, among many others flowers—in an exuberant arrangement, complete with several fluttering butterflies.
So charmed were we by this colorful and spirited still life that we adapted it for an array of items, including plates, bowls, and teacups, as well as a top-selling pillow.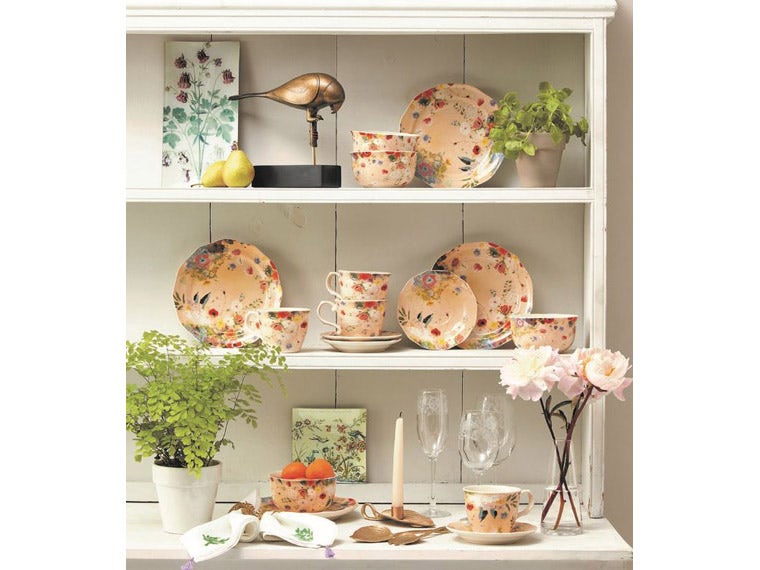 After a long, fruitful career, Redon was awarded the prestigious Legion of Honor in 1903, and though he passed away on July 6, 1916, his work continued to influence generations of artists and creators after him. Of his art, he wrote, "My drawings inspire, and are not to be defined. They place us, as does music, in the ambiguous realm of the undetermined."
You can see more works by Redon on the Museum's website.