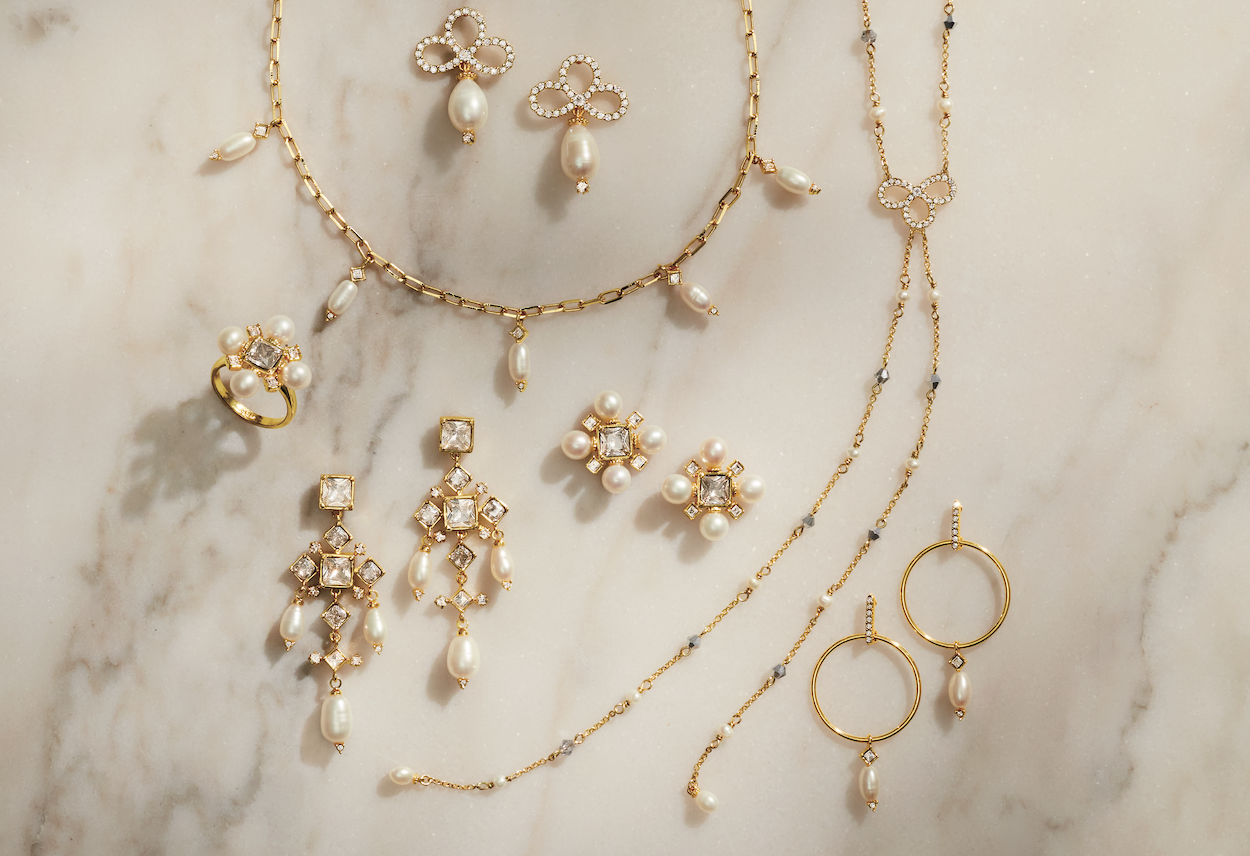 In Marcus Gheeraerts the Younger's (Flemish, 1561–1635/36) striking portrait of Ellen Maurice (1597) at The Met, the Welsh heiress is poised in a dramatic dress embellished with splendid adornments. Such sumptuous frocks and jewels were characteristic of the Elizabethan court, the swan song of England's resounding Tudor dynasty.
Tudor England—which began in 1485 with Henry VII's seizure of the throne, and ended in 1603 with the death of his granddaughter Elizabeth I—fostered an international community of artists and artisans; from Hans Holbein the Younger (German, 1497/98–1543), who immortalized the legendary King Henry VIII and his ill-fated wives; to the master armorer Jacob Halder (British, documented 1558–1608), whose imposing armor garniturre of George Clifford (1586) inspired our new Tudor Armor collection; and Gheeraerts, the coveted court portraitist of the late Elizabethan era and beyond. It was the presence of such extraordinary painters, sculptors, weavers, and armorers that contributed to the emergence of a distinctly English style. The Tudors: Art and Majesty in Renaissance England, which opened on October 10, 2022, traces the flourishing of that style amid a series of royally tempestuous reigns.
Coinciding with this compelling showcase of over 100 English Renaissance objects, The Met Store is delighted to present the Royal Tudor collection. A complement to our Ellen line, which reimagines the jewels worn by Maurice in Gheeraerts's painting, Royal Tudor shifts the spotlight to her lustrous pearls, regarded as the "Queen of gems" in the Elizabethan era.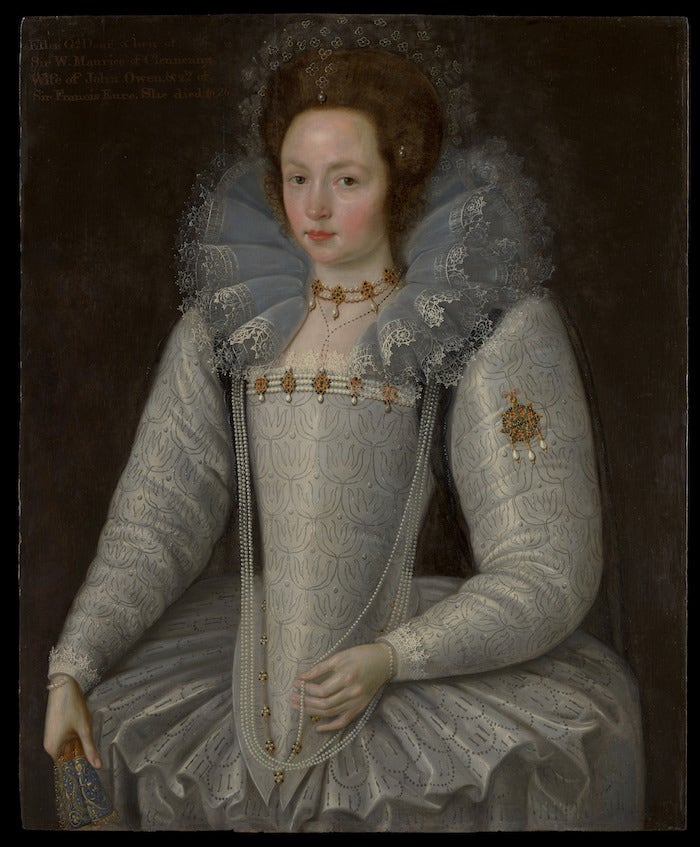 Ellen Maurice, 1597. Marcus Gheeraerts the Younger (Flemish, 1561–1635/36). Oil on oak. Purchase, Theodocia and Joseph Arkus and University Place Foundation Gifts; Gift of Victor G. Fischer, by exchange; Marquand Fund; Elizabeth and Thomas Easton Gift, in memory of their mother, Joan K. Easton; Gift of Mary Phelps Smith, in memory of her husband, Howard Caswell Smith, by exchange; and The Alfred N. Punnett Endowment Fund, 2017 2017.249
Pearl and Chain Necklace
From the 16th century on, pearls became a newly accessible luxury by way of expanding global trade routes. As such, the pearl became a symbol of high status, deep pockets, and excellent taste. This necklace, boasting Swarovski® crystal-crowned pendants of cultured freshwater pearl, borrows from Maurice's pearl strands and the embellished gold chain around her waist.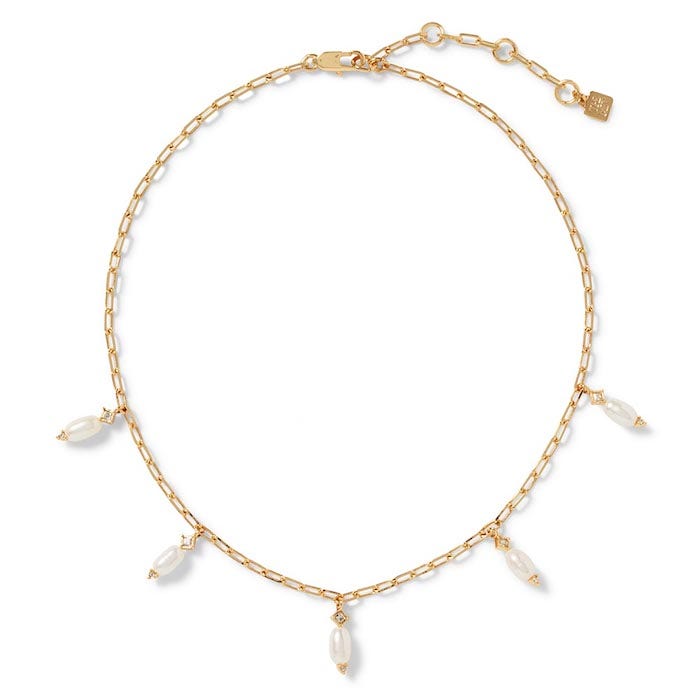 Pearl Drop Brooch
Turn heads with this brooch bearing a trio of cultured freshwater pearls suspended from a sparkling Swarovski® crystal pin. The design adapts the delicate decorations in Maurice's hair.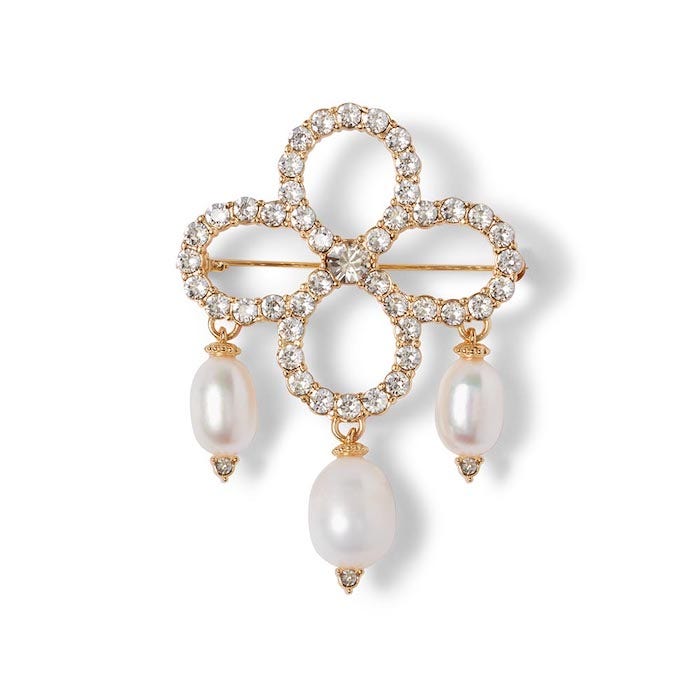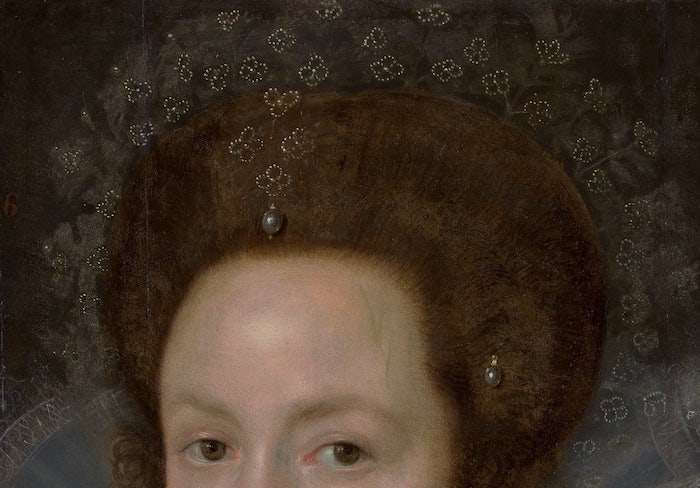 Chandelier Earrings
Make a regal statement with these cascading earrings. Their central diamond motif nods to the jewels punctuating Maurice's choker and dress, while their color palette pays tribute to Queen Elizabeth's request that her maids of honor dress in white, silver, and gold—colors that nicely accompany black and white, her personal favorite shades.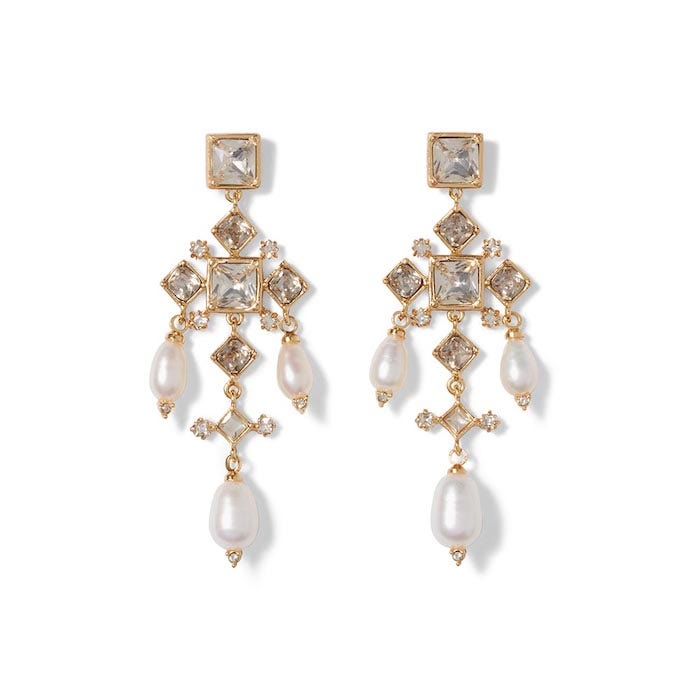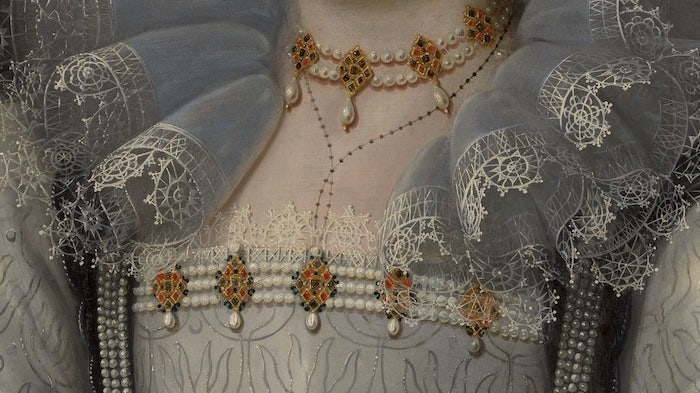 Small Hoop Earrings with Pearls
For a subtler look, opt for these simple, stylish gold earrings elevated by a single cultured freshwater pearl pendant with sparkling accents.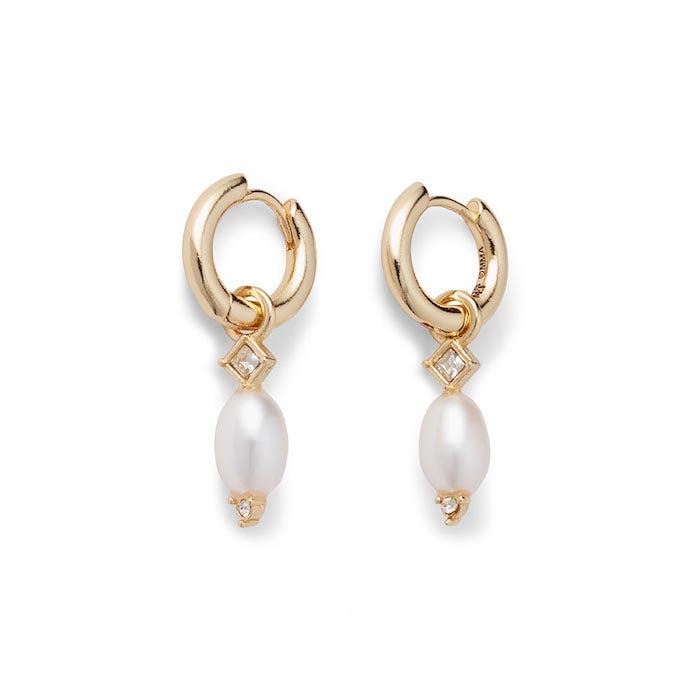 Cocktail Ring
This striking ring reinterprets the pearl-and-jewel ornamentation on a fine gold chain around Maurice's waist.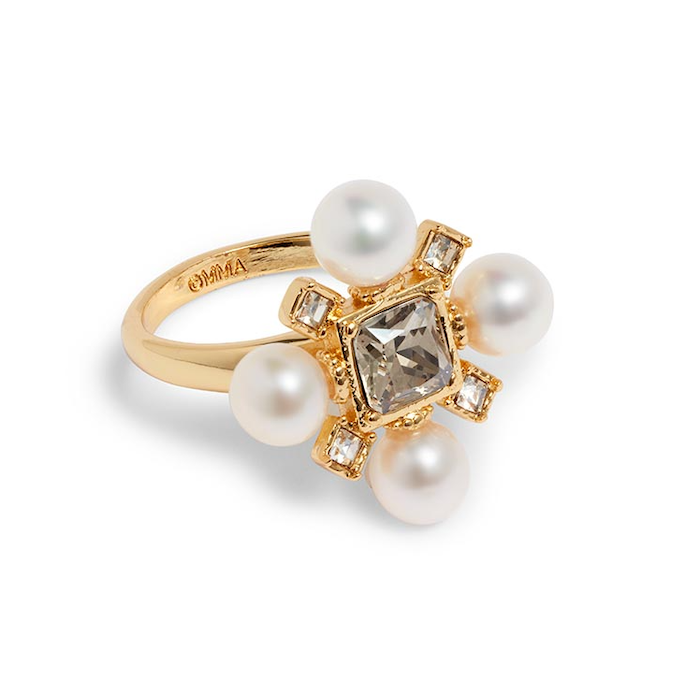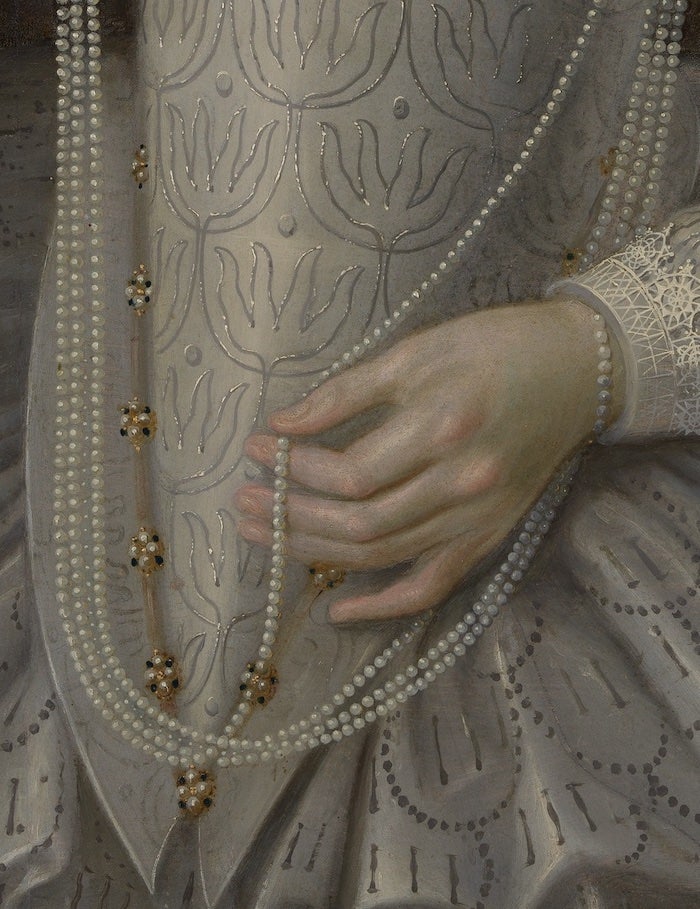 Pearl Headband
Women such as Maurice who enjoyed wealth and status are often pictured with luxurious jewels in their hair. This eye-catching headband evokes the elaborate headpieces that were fashionable in Tudor times.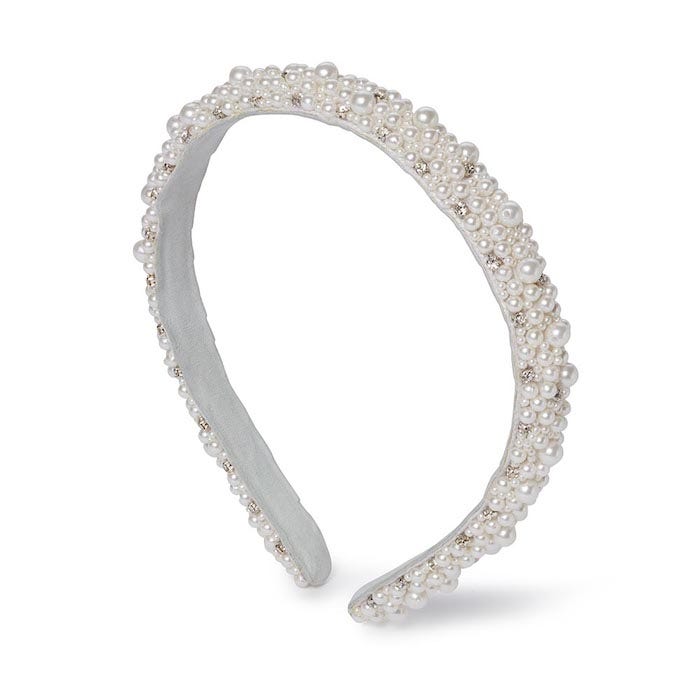 Shop our new Royal Tudor collection in-store and online, where you can find a selection of exhibition-related items. The Tudors: Art and Majesty in Renaissance England will remain on view at The Met Fifth Avenue through January 8, 2023.