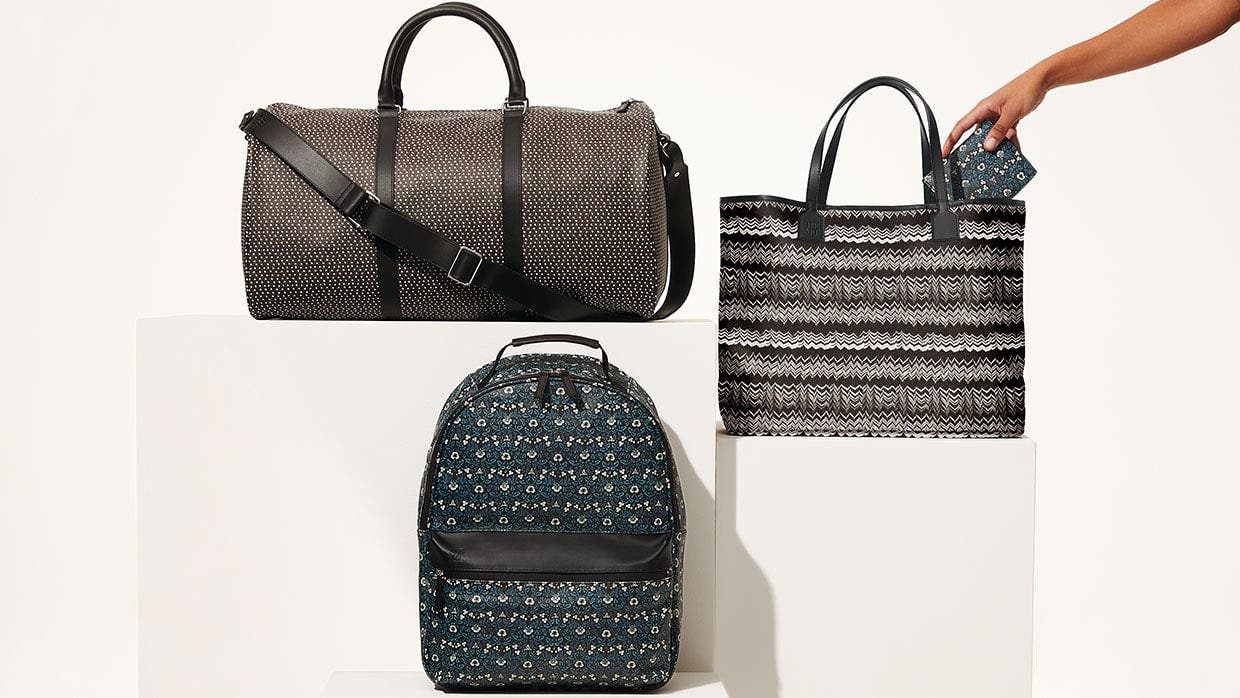 Here at The Met Store, we love a good tote bag. They're practical, versatile, and fashionable, plus who doesn't need a little pop of art on their daily travels? This season we decided to take our bags to the next level by creating a new line of not only totes, but also duffle bags, backpacks, dopp kits (aka toiletry bags), passport and cardholders, and even luggage tags, all crafted in coated canvas for maximum durability and sophistication.
What Is Coated Canvas?
Coated canvas bags are a staple of fashion lovers and chic commuters everywhere; in fact, several luxury labels produce highly coveted coated canvas bags featuring their signature logos or chevrons and other geometric patterns. Often mistaken for leather, coated canvas is usually made from a heavy woven fabric, such as cotton or polyester canvas, that is then covered in PVC, resin, or wax. The coated canvas construction makes for one super-sturdy bag.
From Bags to Tags
We're offering four different bag styles: totes, backpacks, and duffle bags, plus our dopp kit or toiletry bag. Perfect for travel, each bag features leather trim and the Museum's handsome logo. We also have two types of holders. The first is our passport holder, which is a stylish way to keep your passport protected. We also have cardholders, ideal for Metrocards and OMNY cards or even business cards. And lastly, the collection includes luggage or travel tags, with a discreet panel to conceal your name and address.
Why We Love These Travel Bags & Accessories
There's so much to love about this new collection. First, these styles are wonderfully versatile. You can mix and match them, and take them with you anywhere, whether you're traveling abroad or on a weekend getaway in the country—or even on your daily commute to work or a trip to the gym. They are also incredibly durable, water-resistant (perfect for unexpected rainstorms), and easy to keep clean. Plus, each design boasts leather trim and an embossed Met logo. But our favorite feature? Their distinctive patterns that are exclusive to The Met.
Unique Patterns You'll Only Find at The Met Store
We've launched this new line in three neutral, easy-to-coordinate patterns. First up is our William Morris Eyebright. This pattern features a detail from—you guessed it—William Morris's (British, 1834–1896) Eyebright, an elegant cotton textile design registered in 1883 and printed about 1917–23 at Merton Abbey Tapestry Works (British, founded 1881). As the leading figure of the Arts and Crafts movement in Britain, Morris believed that beauty, imagination, and order were the necessary components of a strong design, and he frequently derived inspiration from the English countryside.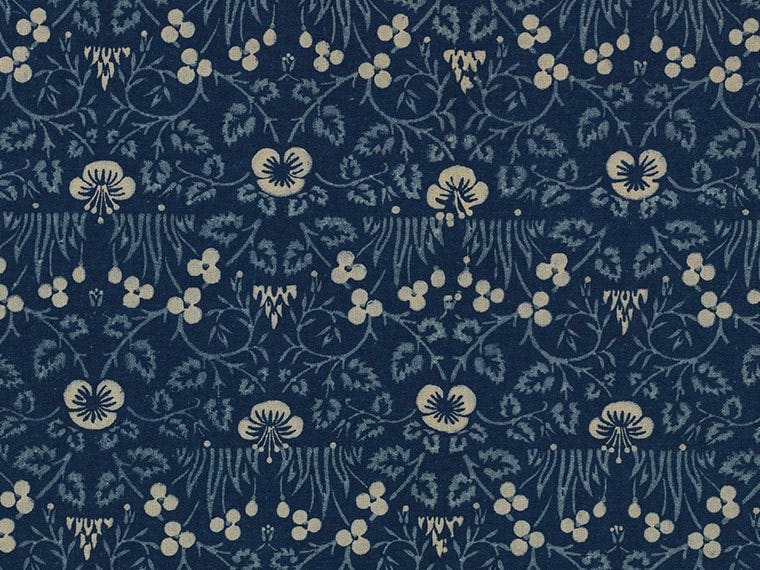 Next up is our Egyptian Feather Motif. These designs are inspired by a feather-patterned glass inlay from Egypt, crafted sometime between 200 B.C. and A.D. 100. The use of a mosaic technique facilitated the motif's repetition; a figural or design composition was made by bundling colored glass canes, drawn out into a long bar which was then sectioned at right angles—probably by striking the bar with appropriate tools—to produce small inlay tiles.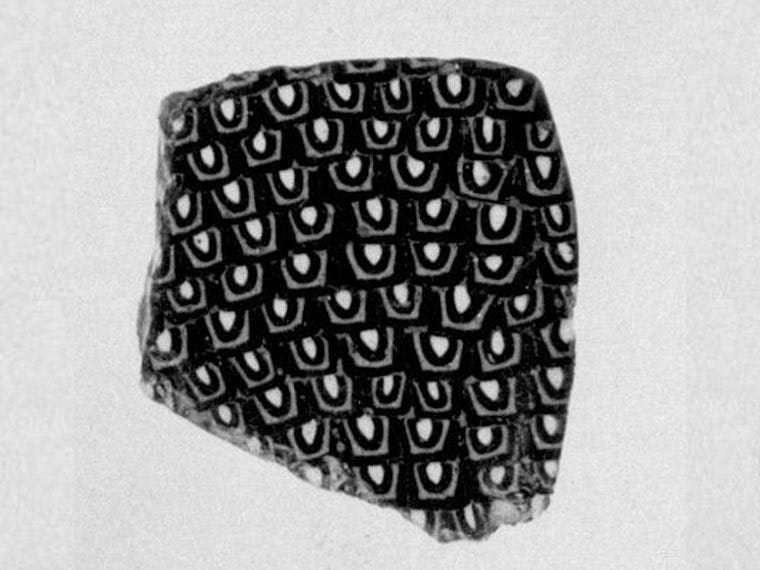 Last but certainly not least is our Hellenistic Zigzag Motif. The motif gracing these designs evokes the timeless pattern on an early Hellenistic bottle in The Met collection. Crafted in the late 4th–early 3rd century B.C., this ancient Greek vessel is known as an alabastron, which was used to store perfume.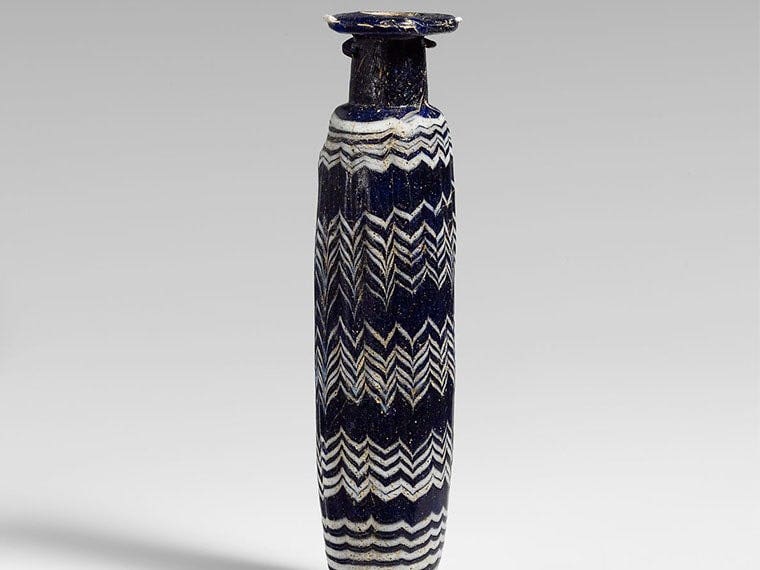 Where to Shop
You can find our complete coated canvas collection, including totes, duffle bags, backpacks, dopp kits, luggage tags, and more, both in-store at The Met Fifth Avenue and right here on our website.