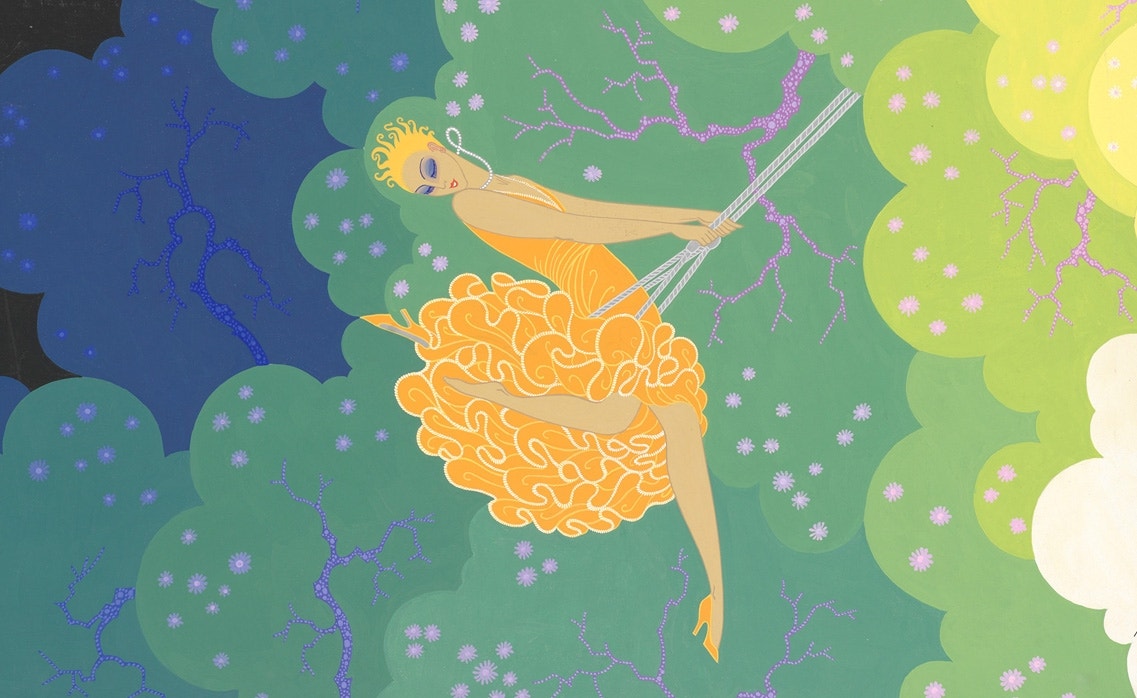 We are pleased to debut a new line of jewelry adapted from original designs by Erté (French, born Russia, 1892–1990)—the celebrated artist, designer, and bon vivant.
Born into a distinguished St. Petersburg family, the young Romain de Tirtoff chose not to follow his aristocratic male relatives into a career in the military. Instead, at age 18, the budding artist left Russia for Paris, where he embarked on a long, storied career as an illustrator and costume and set designer known as Erté (from the French pronunciation of his initials, "RT").
The artist is especially renowned for the fabulous covers he created for Harper's Bazaar from 1915–1936. Soon after designing his first cover, Erté received a 10-year contract to work exclusively for the magazine. He ultimately contributed more than 240 covers featuring his signature Art Deco illustrations.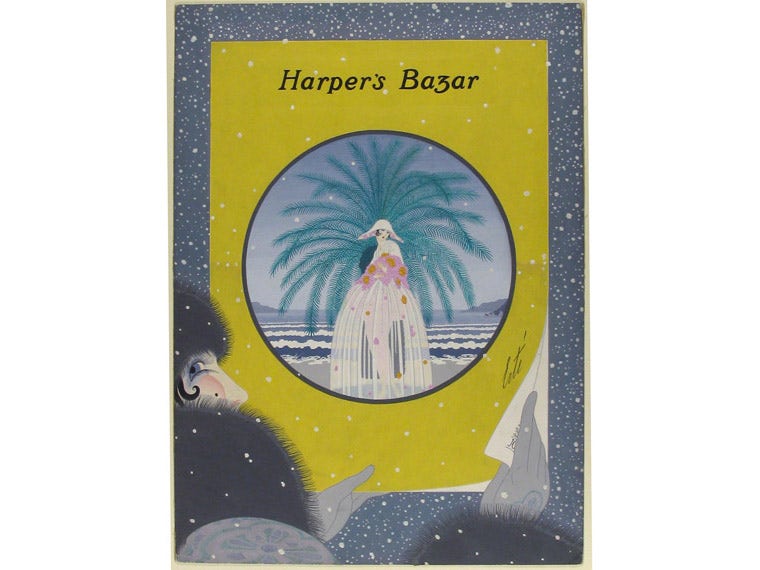 The Met is fortunate to house a major collection of Erté's original gouaches. In 1967, the Museum bought the complete contents of one of the artist's shows from a New York City gallery (examples shown at top, above, and below). "It was, I believe, without precedent that a museum bought an entire exhibition of a living artist," Erté wrote many years later. "Certainly, it was a first time for The Met."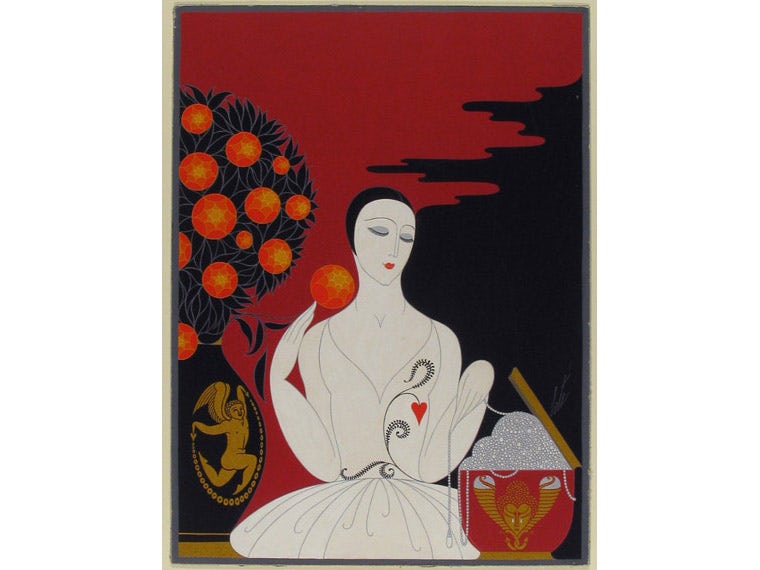 Here, we reveal a selection of our new adornments:
Erté Zizi Jewelry
These stunning designs are named for Zizi Jeanmaire (French, born 1924), the sophisticated ballet dancer whom Erté often costumed. In 1976, the French government made Erté an "Officer of Arts and Letters"; the ceremony was held at Maxim's in Paris, and Zizi herself presented her friend with the prestigious blue rosette medal. The jewelry boasts ornate openwork crescents reminiscent of the shape of a tutu or a dancer's arched, upraised arms, and each piece is decorated with Swarovski crystals, a show-stopping look that will stand out and make a statement.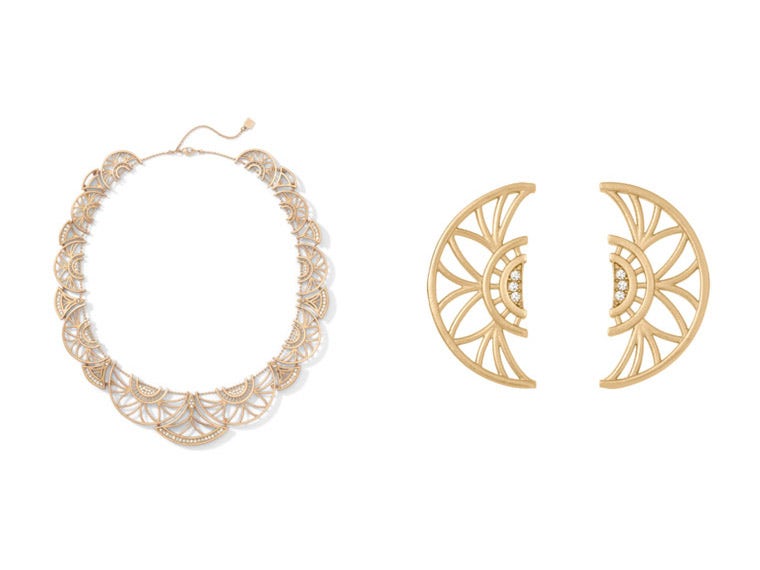 Erté Deco Openwork Jewelry
In 1925, Erté was hired by MGM as a costume and film set designer, where he created garments for glamorous stars such as Lillian Gish, Norma Shearer, and Carmel Myers, whom he notably dressed for her famous role in the 1925 silent film,
Ben-Hur
. His tenure in California was fairly short, however, and he returned to Paris to resume his career as an illustrator and designer for the theater. This handsome ring and hinged bangle are crafted in silver plate with enamel and Swarovski crystals. Their black-and-white palette and pierced geometric patterns recall the graphic, streamlined aesthetic of the 1920s–30s.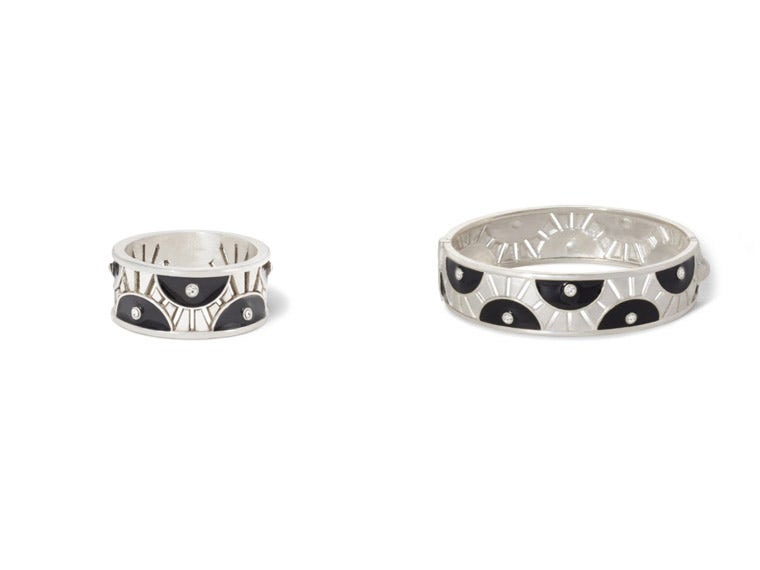 Erté Deco Figural Jewelry
Sinuous and bold forms take center stage in these artful pieces, several of which recall Erte's original designs for "George White's Scandals," the lavish Broadway stage revues that ran from 1919–39. In the necklace, a pair of theatrical phoenix-birds echo his curtain design for the 1926 production of
The Birds
, while the radiant skyscraper pin evokes his set for the 1927
Manhattan Mary
at the Majestic Theatre. The gleaming Serpent Cuffs illustrate his endless fascination with the ancient and the exotic. When you're looking for a dramatic piece to start the conversation going, these appealing designs will be sure to attract notice.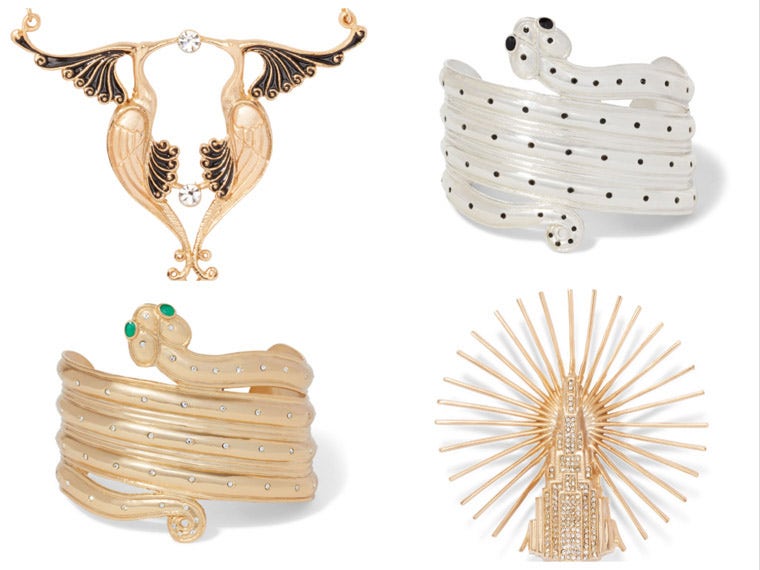 Our new necklaces, bracelets, rings, and earrings are beautifully crafted in 18K gold plate, silver plate, and rhodium plate, with decorative enhancements such as precious or semiprecious stones. Swarovski crystals, and hand-painted enamel.
Watch this space! Discover these and other Erté-inspired designs online at The Met Store beginning Tuesday, January 21.