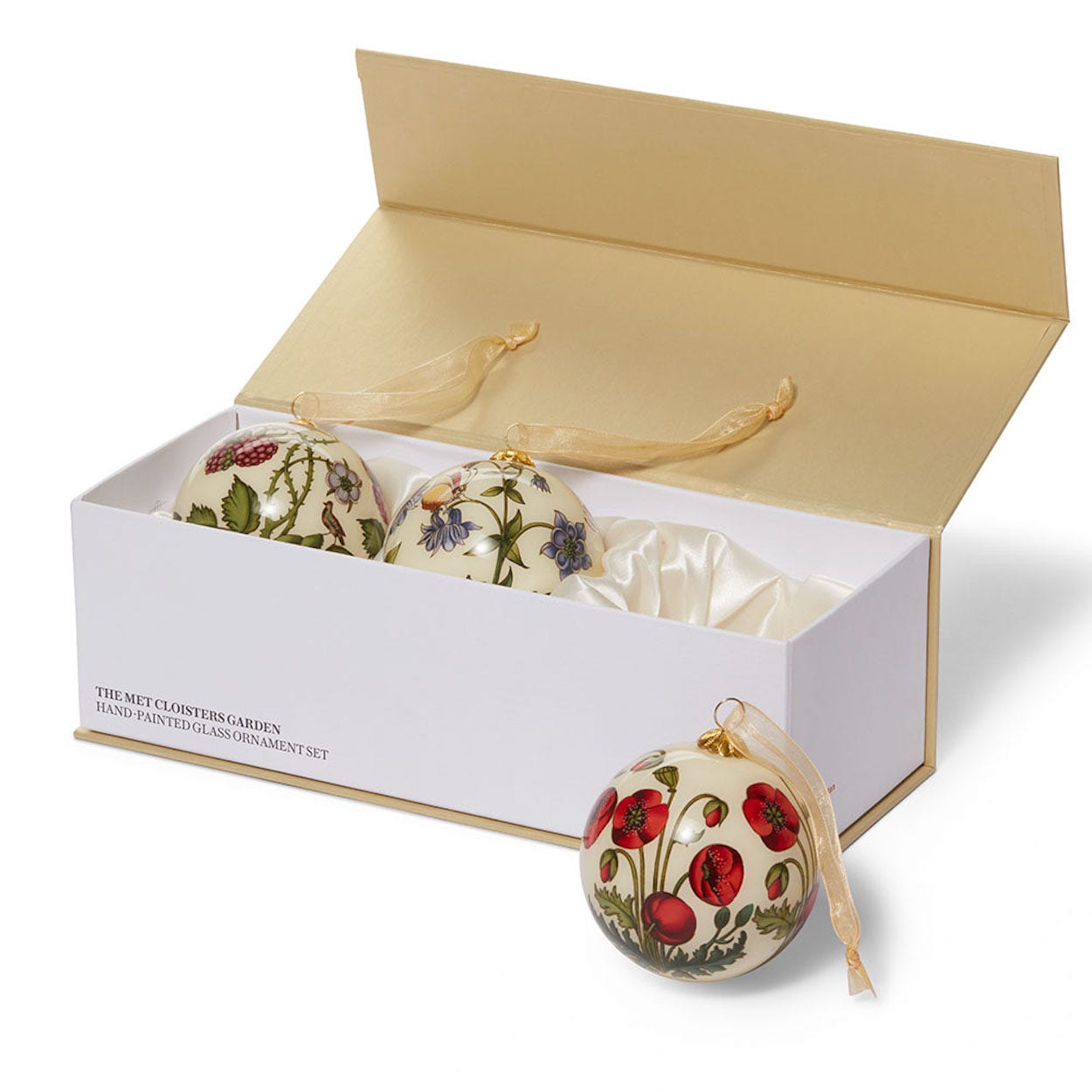 In honor of The Met's stewardship of so many handcrafted treasures from around the world, our glass ornaments are hand-painted using a centuries-old technique originating in China toward the end of the Ming dynasty (1368–1644).
Each artisan who produces these ornaments trains for at least a year, and spends between eight and ten years honing the technique before they're considered an accomplished painter. Only about six ornaments are produced each day by way of this careful four-step process. First, a design is mapped out on the inside of the glass orb using a fine brush. Next, it's colored in—dark pigments are painted first, followed by highlights to lend depth and dimension to the motif. Finally, a thicker brush is used to apply the background color, before the cap and ribbon are placed on the top of the ornament and the process is complete.
This season, we're delighted to present three new hand-painted glass ornament sets, each inspired by the Museum's encyclopedic collection.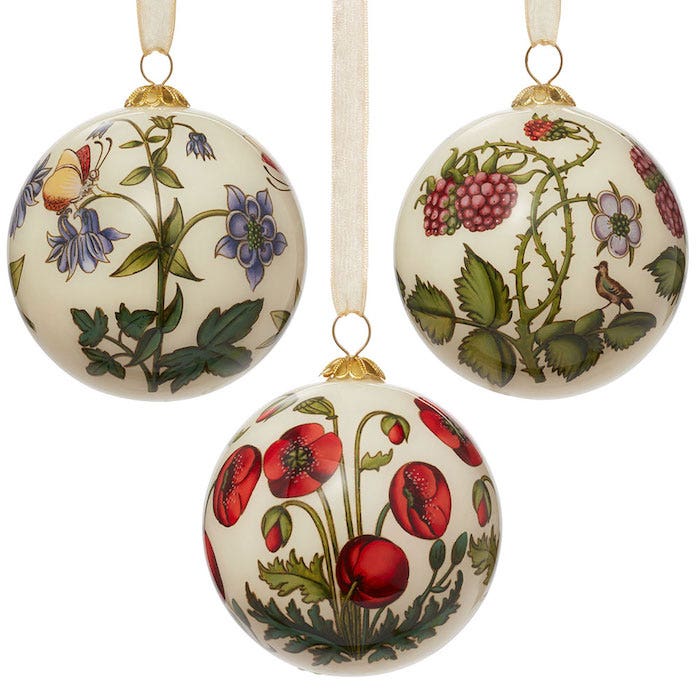 The Met Cloisters Hand-Painted Glass Ornaments
This lush trio reinterprets a selection of 16th-century plant studies by the Master of Claude de France, whose spectacular book at The Met Cloisters belongs to what's been called "the last flowering" of northern European manuscript illumination in the medieval tradition. The French artist immortalized garden variety species—including the corn poppy (Papaver rhoeas), the blackberry (Rubus sectio rubus), and columbine (Aquilegia vulgaris), as depicted in this set—not merely for their symbolic or medicinal values, but in celebration of their beauty. Illuminators working in Tours, France, where this book was made, were profoundly inspired by flora, and this particular volume undoubtedly influenced the botanical illustrations found in esteemed commissions linked to Queen Claude of France and Antoine de la Barre, Archbishop of Tours. Today, the plants represented in this magnificent manuscript can be found in the gardens at The Cloisters.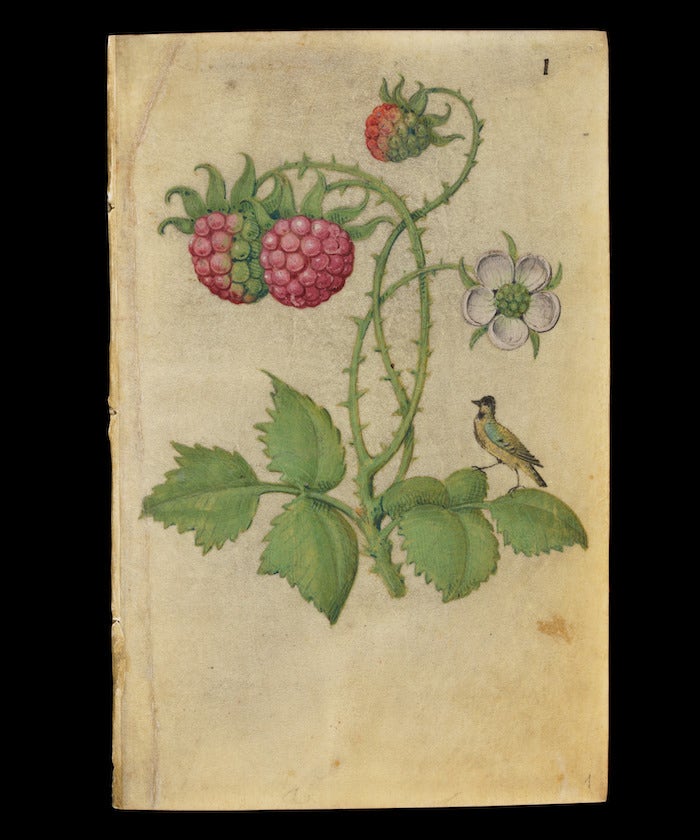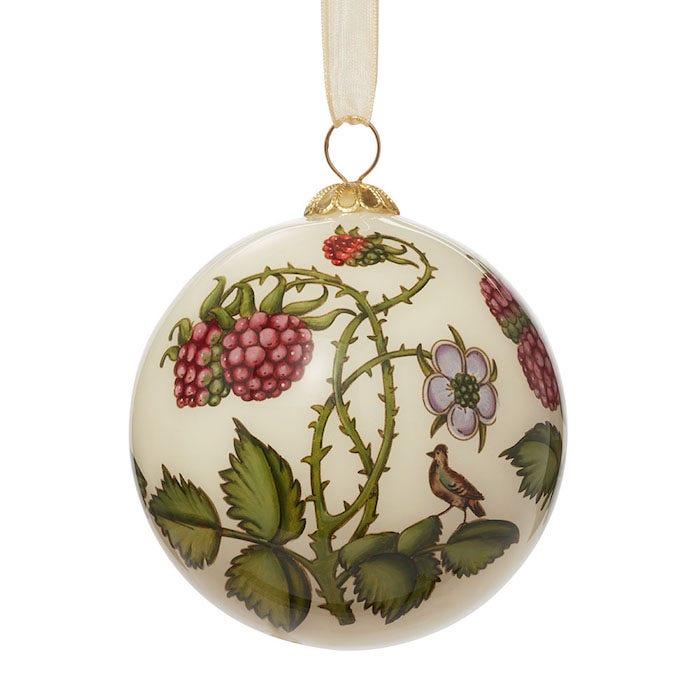 Iznik Garden Hand-Painted Glass Ornaments
The eye-catching designs on these ornaments evoke three spectacular Turkish dishes in The Met collection. Each was crafted in the famous Iznik kilns, illustrious workshops that produced magnificent ceramic wares for the Ottoman court.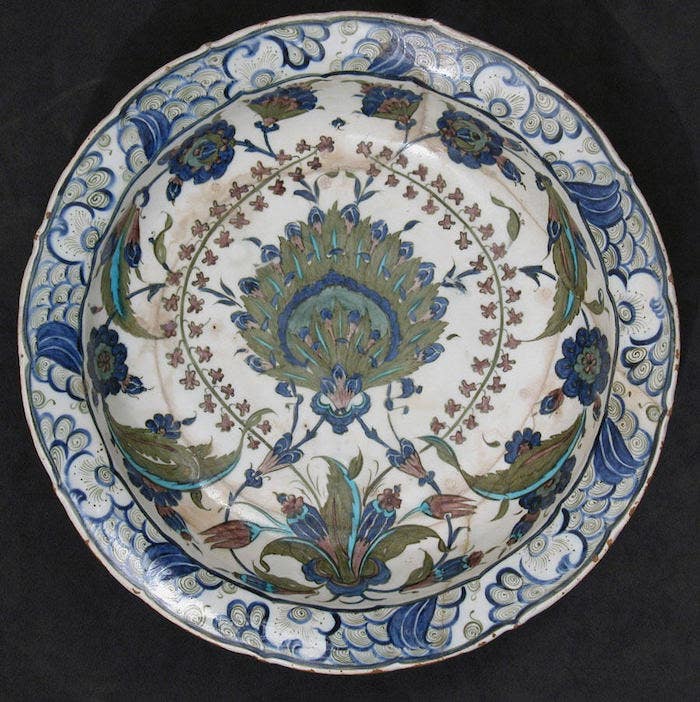 Shown above, a rare and highly desirable dish with a floral design (ca. 1545–60), painted in an unusual color palette of sage green and manganese purple, features traditionally Chinese border decorations of waves, foam, and rocks, as well as a cusped edge, modeled after a Ming-dynasty prototype. More typical of Ottoman ceramics is the large and complex palmette surrounded by feathery leaves. These so-called "saz" leaves were a Persian motif, imported to the Ottoman court in the mid-16th century. The hyacinths and tulips that frame the palmette mark the debut of a new floral style that would come to dominate Ottoman art.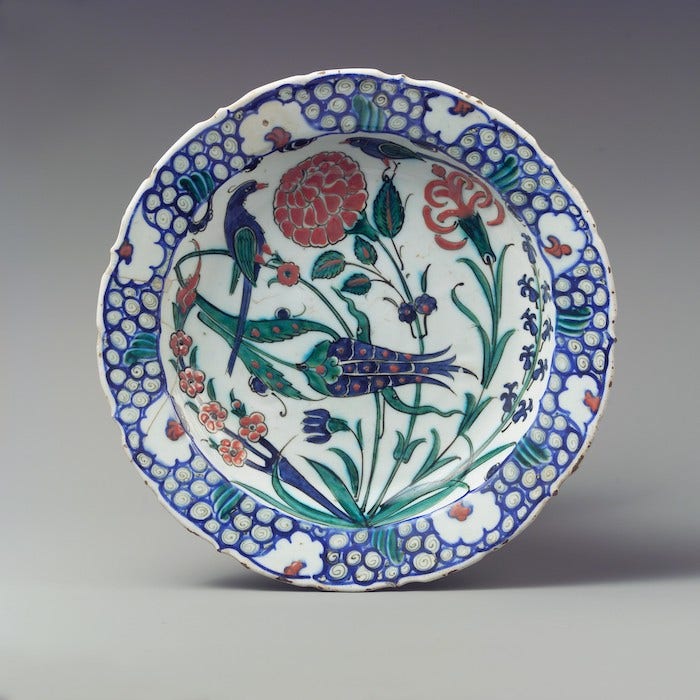 The ornament painted with birds and flowers pays homage to a stonepaste dish (above) made slightly later, around 1575–90. Small birds perched amid a tangle of carnations, tulips, and hyacinths were popular Ottoman literary tropes, as well as pervasive decorative elements on 16th- and 17th-century Iznik creations.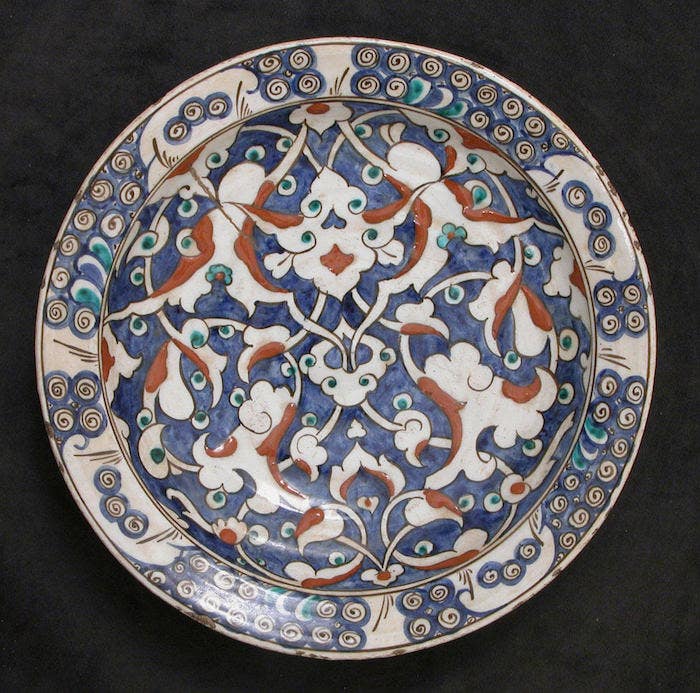 The third ornament in our set boasts a mesmerizing split-leaf palmette pattern borrowed from a dish (above) made around 1625–50. The split-leaf palmette became a wildly popular Iznik design element, most likely inspired by Persian manuscript illumination.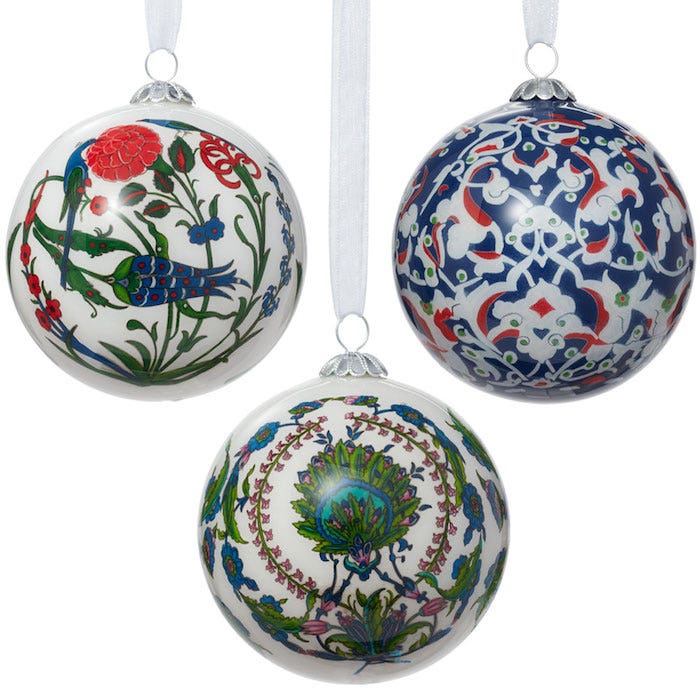 Blue & White Hand-Painted Glass Ornaments
Our blue-and-white set celebrates a classic color palette with reference to three cobalt-painted porcelain objects in The Met collection: a dish with two elegant ladies in Japanese fashions (ca. 1735–40) attributed to Cornelis Pronk (Dutch, 1691–1759), who was commissioned by the Dutch East India Company to create a design for Chinese and, later, Japanese potters to use as a model; a mid-17th-century Chinese brush holder depicting a scene from a 16th-century mythological novel; and an early 18th-century Chinese dish decorated with an idyllic family scene, a popular subject during the Qing dynasty (1644–1911).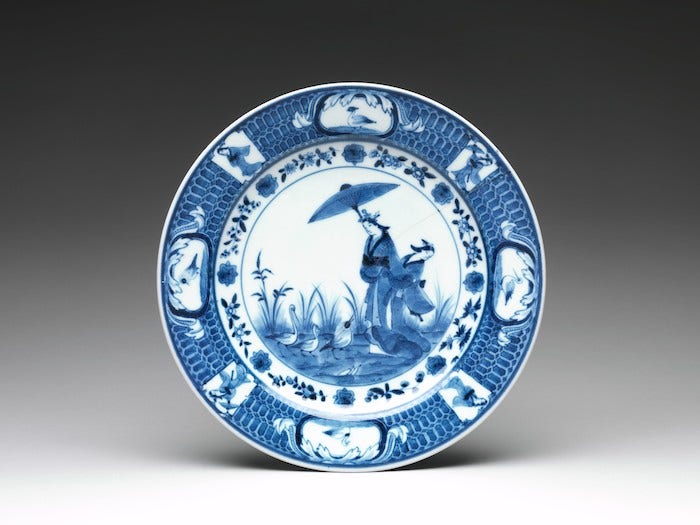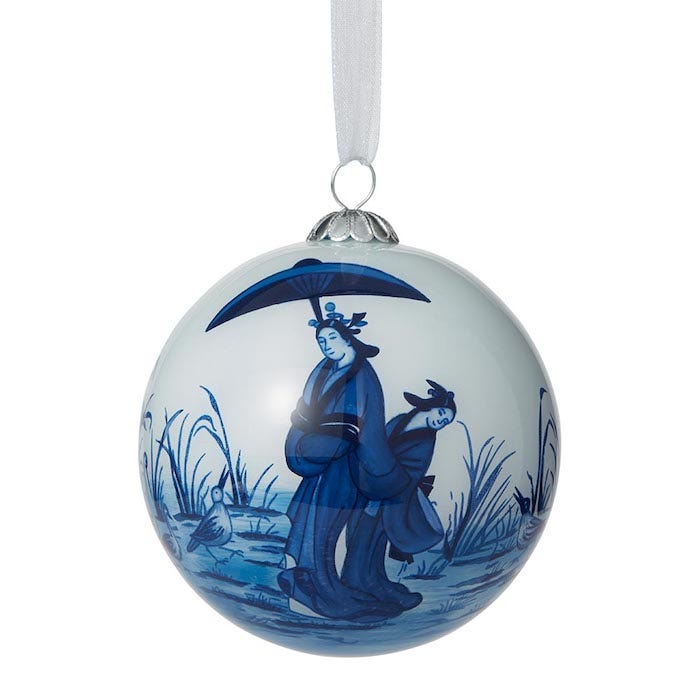 One of the most innovative developments in the global history of ceramics, the practice of painting cobalt blue imagery on white porcelain burgeoned in 14th-century China, after which it was adapted by potters around the world.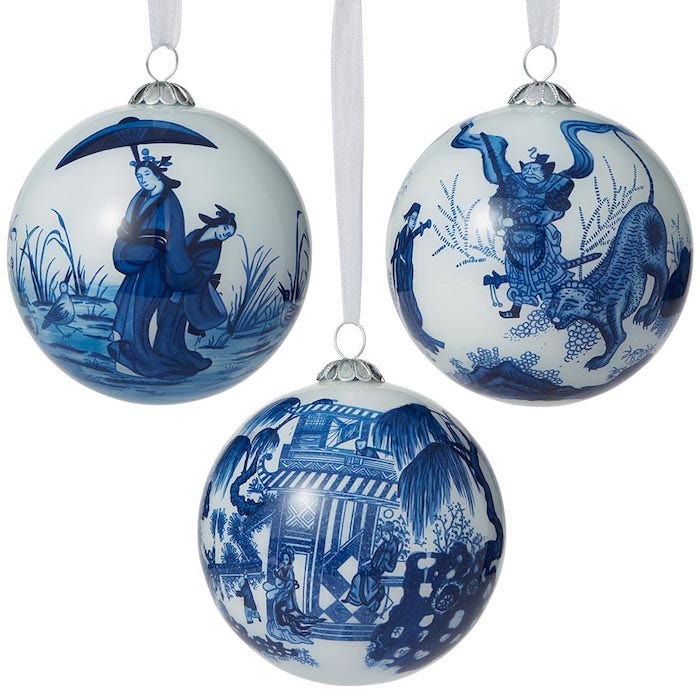 Japanese Netsuke Hand-Painted Glass Ornaments
And, of course, we can't forget to mention this set showcasing details from three 19th-century Japanese netsuke in The Met collection. The Museum houses nearly 1,000 netsuke: small, richly carved toggles used to suspend pouches or cases for small items such as tobacco or medicine from kimono sashes called obi. Made for daily wear, netsuke were typically carved out of sturdy materials like ivory or wood, and often depicted scenes from nature.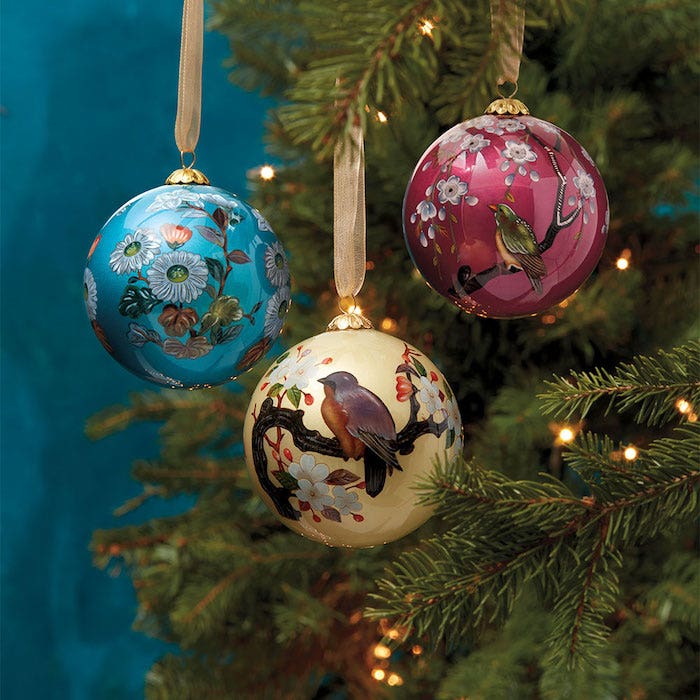 Shop our hand-painted glass ornaments online or in-store.