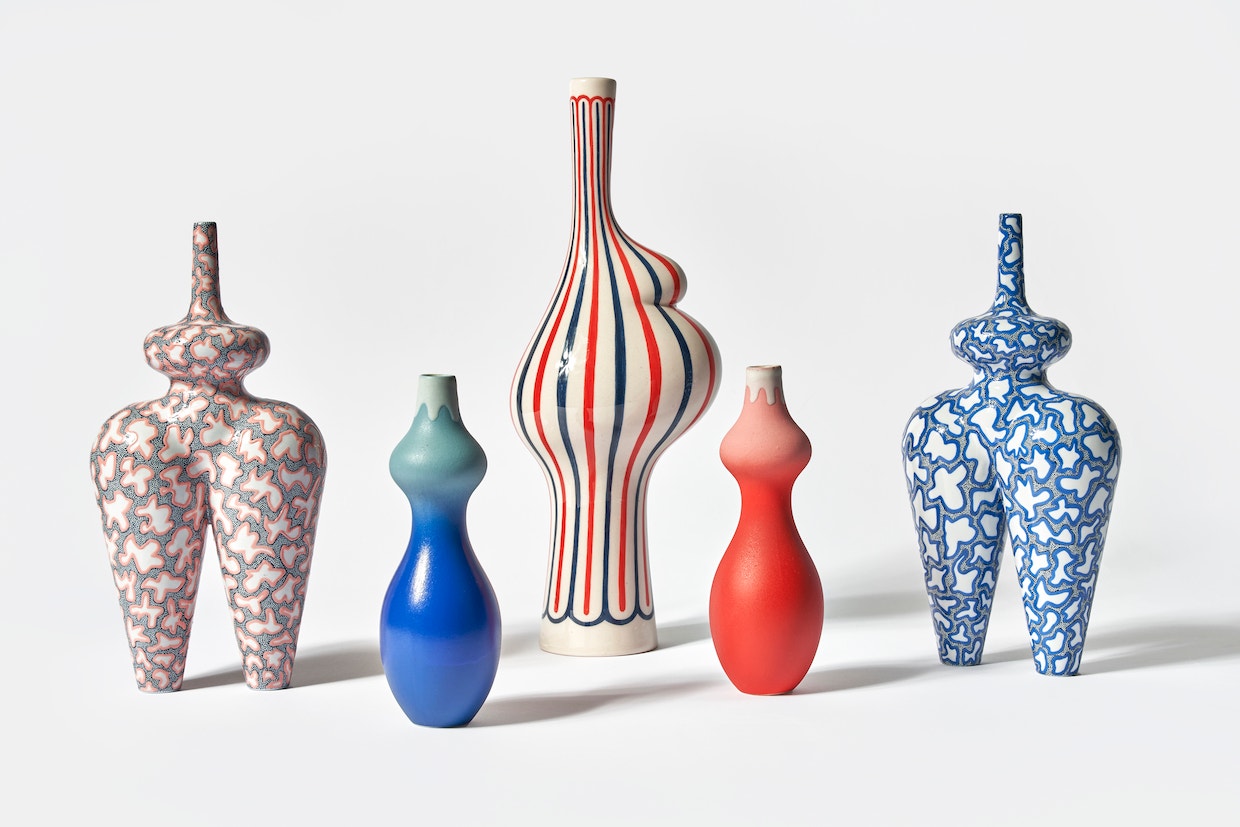 Painter and ceramicist Elif Uras (Turkish, b. 1972) derives profound inspiration from her native Turkey. She mines its Ottoman past, referencing the mesmerizing patterns on 16th-century pottery produced at the renowned Iznik kilns, and celebrates the nation's present, as creative tasks that were once exclusively performed by men are now successfully managed by women.
Womanhood pervades much of Uras's work, manifesting in curvaceous, feminine forms. This is evident in Uras's Pregnant Haliç II (2015) in The Met's Islamic art collection, and in her designs presented at The Met Store in honor of the Turkish centennial.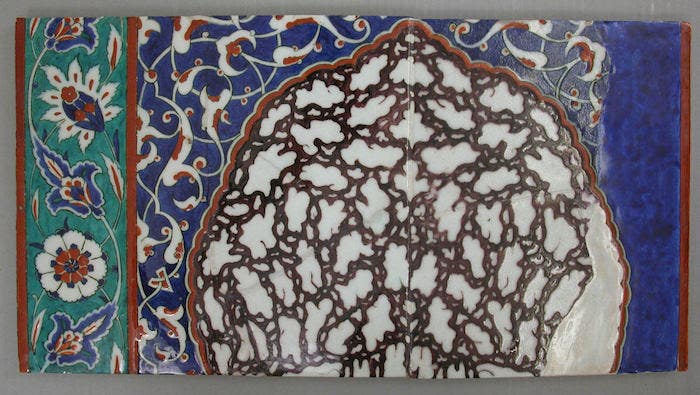 The riches of the Ottoman empire (ca. 1299–1922)—a historic world power that encompassed many parts of the Islamic lands—are presented at The Met in resplendent artistic triumphs, from luxurious textiles to magnificent manuscripts and jewel-toned pottery.
The Met celebrates Turkish art and culture with a special installation, Dialogues: Modern Artists and the Ottoman Past, on view at The Met Fifth Avenue from October 24, 2023, to June 30, 2024, in the Department of Islamic Art's Koç Family Galleries (459 and 460) for the arts of the Ottoman world. This new installation positions contemporary Turkish artworks in dialogue with Ottoman treasures in the Museum's Islamic art collection.
Concurrently, The Met Store is delighted to introduce a shoppable artist series by Uras. Here, she talks to us about her creative process, her collaboration with The Met, and what the Turkish centennial means to her.
Tell us about yourself!
I was born in Ankara, Turkey. I work primarily in ceramics, painting, and drawing. I received my MFA from Columbia University. Currently, I'm based in New York and Istanbul.
What's your philosophy as an artist? How does that philosophy manifest in your work?
I like art that reveals itself over time—over multiple viewings and through multiple points of reference. My work explores the representation of the female body across cultures and geographies. I often employ labor-intensive and intricate ornamental patterns on my surfaces, inspired by diverse art historical sources including prehistory, Islamic geometry, Iznik ceramics, and Western modernism.
You created a series of new artworks inspired by a selection of Iznik treasures in The Met's Islamic art collection. What was it about these particular objects that caught your eye?
I have been working in Iznik, Turkey, and researching Iznik ceramics for more than a decade. The Met's Iznik collection includes exquisite pieces, and I have been drawn to a large cobalt-and-turquoise dish on display there ever since the Islamic galleries reopened. It has a central medallion design that is geometric (which is rare in Iznik ceramics), yet the border is very ornamental with the curving, arabesque lines of the famous split-palmette, or "rumi," pattern.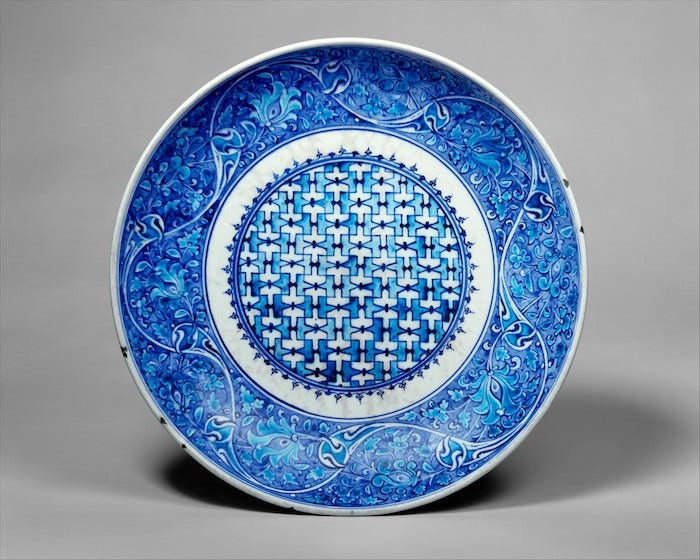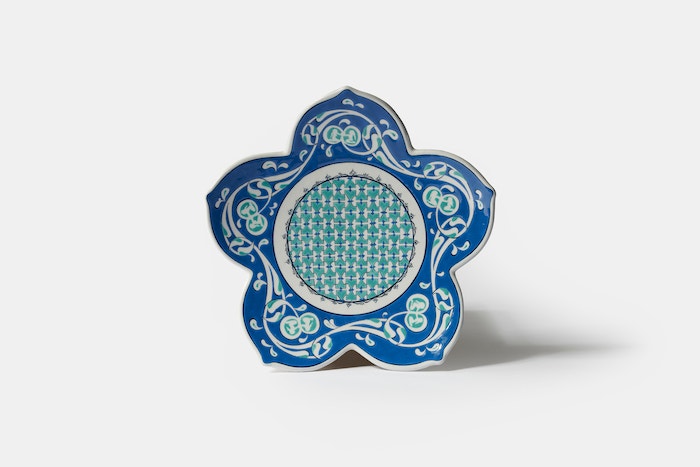 Can you describe the process of translating these historical Iznik wares into contemporary works of art that notably allude to the female form?
Iznik wares are highly labor intensive, and I have been working in ceramic facilities in Iznik alongside mostly female artists and craftspeople for a while. When I went to Iznik to learn about and research this tradition, I was struck by the fact that tasks that were once exclusively performed by men during Ottoman times are now skillfully managed by women workers, artisans, and entrepreneurs. My vessels, which allude to the female form, are an homage to these contemporary women, with the female figure taking center stage. I used patterns and motifs inspired by historic works to enhance and underline the formal qualities of the objects.
How does Turkish history and culture factor into your work? What draws you to Iznik visual traditions in particular?
I started my career as a painter, but I did not like to paint on stretched canvas and was always looking for hard surfaces to paint on. I enjoyed painting on ceramic surfaces and was also looking for an excuse to make work in Turkey, my homeland, so I went to Iznik. Having studied art and art history in the US, with its Eurocentric point of view, I was not aware of what a significant achievement Iznik pottery was, even though I grew up surrounded by it. The more I researched, the more I was drawn to this tradition—its history, its influence, and the entire ceramic medium as a whole. I'm in awe of its language and abstraction, the delicateness of the line, and the balance and harmony of color. Most importantly, it merges drawing and painting with the three-dimensional object, so it's given me the freedom to work across multiple mediums. I also see a lot of connections with the curvy lines of Art Nouveau, a precursor to Western modernism, which came much later in time. Soon, I started making my own forms and drawing and painting exclusively on ceramic.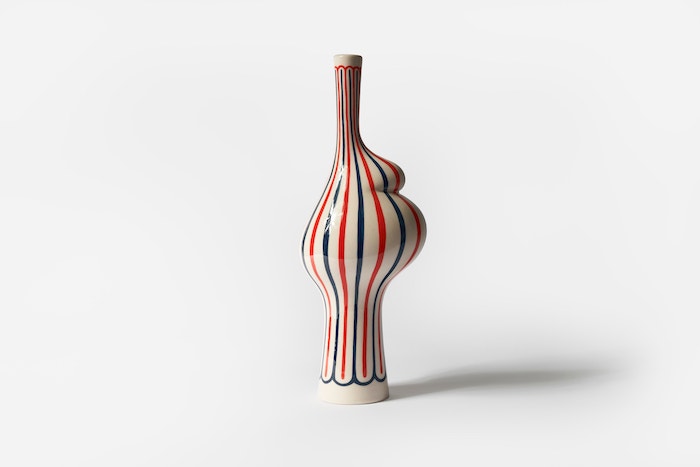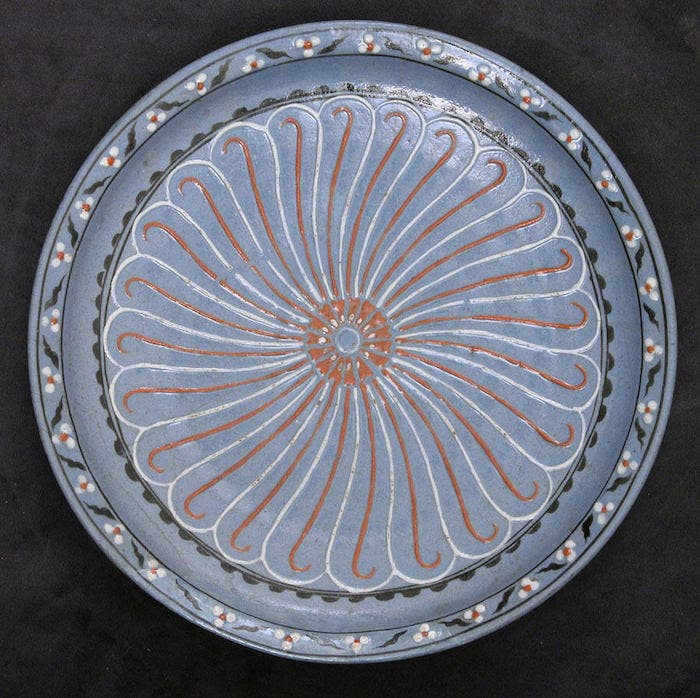 What do you hope the public will learn from or appreciate about this initiative?
I hope this project will bring attention to the Iznik ceramics themselves, as well as demonstrate how historic arts and crafts can inform contemporary practices.
What's next for you?
I will be participating in a group show titled Slip Tease at Kasmin Gallery in New York along with a wonderful group of contemporary artists who work in ceramics. That opens on October 26, 2023. In Istanbul, my work is featured in a group exhibition titled Souvenirs from the Future at the Pera Museum, which also opens on October 26, 2023, and continues through February 25, 2024. I also participated in a group exhibition titled Healing Ruins at the Zeyrek Çinili Hamam in Istanbul, which will be on view through November 5, 2023.
These products are available exclusively at The Met Fifth Avenue. To purchase or to learn more, contact 212-879-5500 extension 2850.