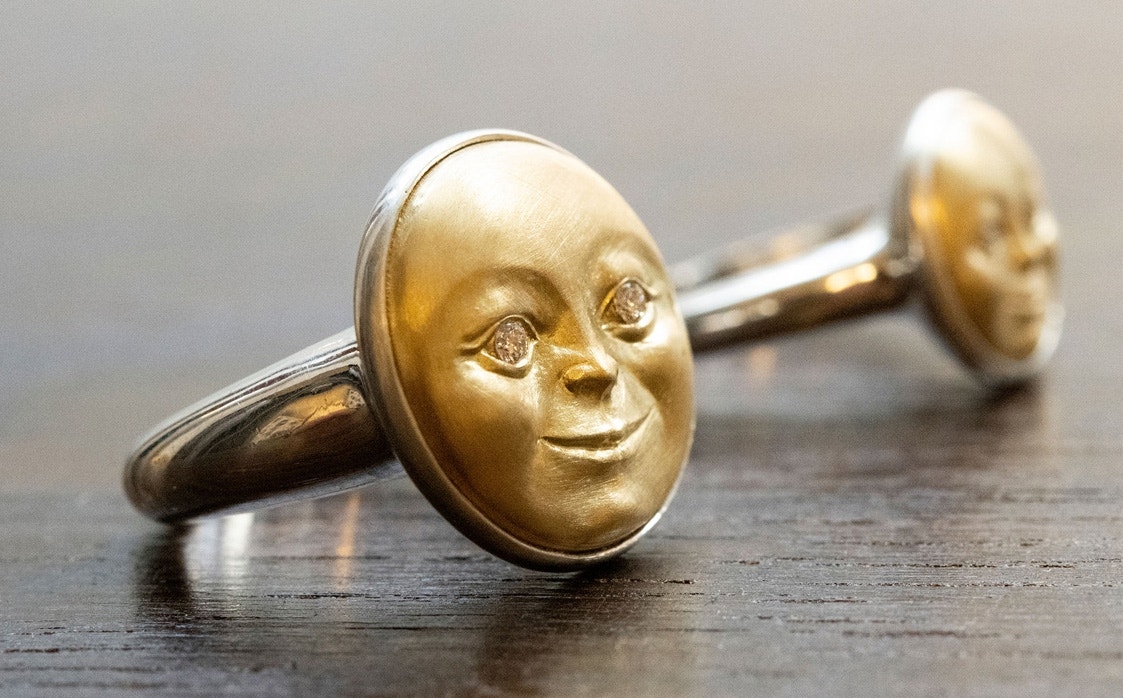 Jewelry maker Anthony Lent honed his skills among master goldsmiths in Europe. Through old-fashioned craftsmanship and an eye for classic motifs that continue to intrigue, he takes long-established traditions and creates modern pieces full of whimsy, refinement, and delight. We're thrilled to once again offer a selection of his beautiful creations at The Met Store. To celebrate the new assortment, we asked Mr. Lent a few questions.



How did you get your start as a jewelry designer?
After studying Industrial Design at Pratt, then sculpture, glass, and metals at the Philadelphia College of Art, I found that the work I wanted to emulate was that of Renaissance metalsmiths. I began working as a jeweler for a small shop on Sansom Street—Philadelphia's jewelers' row. I immediately realized that I needed classic, formal training in goldsmithing. I set off to study in Europe, and was accepted at the Hochschule für Gestaltung in Schwäbisch Gmünd, Germany.
What is new about this ancient art, and what has stayed the same over time?
The "art" of goldsmithing has remained basically unchanged for centuries. The basic tools are still the same: heat, hammer, polish. With the Industrial Revolution came mass-production stamping tools, and in the late 19th century, the use of gas for soldering and melting. The early 20th century brought bottled gas and oxygen, which allowed the working of platinum, and delicate soldering.
The development of centrifugal casting after World War II revolutionized the jewelry industry and greatly simplified production. The most powerful changes have been with the 21st century and the development of the laser, really working with light (thank you, Einstein!). The laser gives us the power to cut and weld with the power of the sun—and the complete integration of the laser with the digital world opens unseen and yet-undreamed-of possibilities to create, design, and manufacture.
All of these new tools simply add to our toolbox. I am embracing the new technology alongside the traditional tools I have worked with for 40 years. My shop has 19th-century stamping tools, a modern hydraulic press, and laser welders.
What's your favorite part of the jewelry-making process?
Finishing something; the final seconds of holding something that is complete and perfect in my hands before it leaves and goes out into the world.
How would you describe your collections?

Stories. Stories and characters. Stories from my life, from mythology, stories from dreams. As I begin to work on a new piece, the characters in my work take over and continue the story.
Celestial motifs—sun, moon, and stars—are a recurring theme in your work. Do they have any personal significance for you?
I've just always felt connected to the cosmos.
The sky has always intrigued me, and the infinity of the galaxy has always inspired wonder.
My tiny universe and galaxy are an homage to the characters of the intergalactic dimensions above.



What are your favorite metals and gemstones to work with?

I love platinum. Platinum is a joy to manipulate, form, carve and join. It's plasticity and weight are simply pleasure in my fingers. The energetic grey color of platinum/iridium is truly a cosmic metal.

Recently I've been searching for demantoid garnet. Years ago, I had a client who bought anything I made with demantoid garnet, but I haven't set one in years. I'm also always blown away by the many, many colors that tourmaline can be.
Where do you get your inspiration from?
Inspiration is everywhere. When I look up, I see faces and creatures in the clouds. When I look down, I wonder about the lives and personalities of the beetles and flowers in my garden.
Do you have a favorite artwork in The Met collection? Favorite gallery? Department?
So many—and they are always changing, I fall in love every time I'm there. I have always been captivated by the French terracottas, particularly the amazing work of Claude Michel (or "Clodion"). Rodin also is continually inspiring.
Anthony Lent is a family business. What's it like working with your sons, David and Max?
It's a joy and a gift and a blessing.
You can find these magnificent pieces and more at The Met Fifth Avenue and on our website.