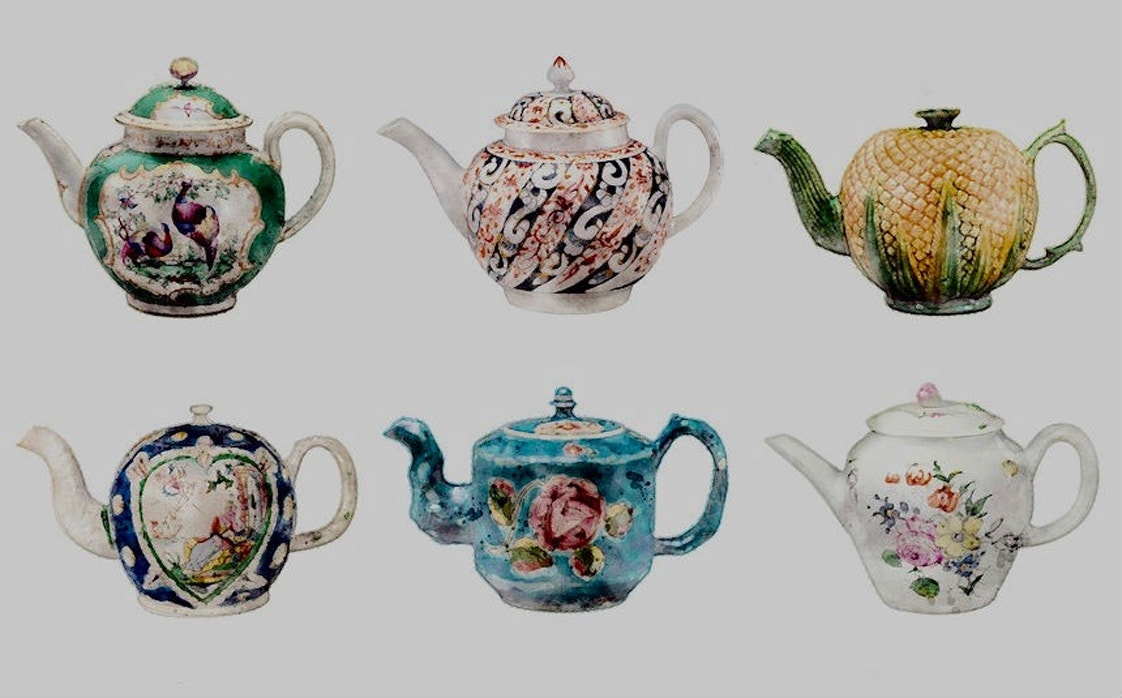 Based in New York's Hudson Valley, Harney & Sons is a family-run business with three generations of experience in sourcing, blending, marketing, and educating the public about fine-quality teas. Their more than 300 blends have been featured in Cosmopolitan, Esquire, Real Simple, Travel + Leisure, Buzzfeed, and other top publications and websites.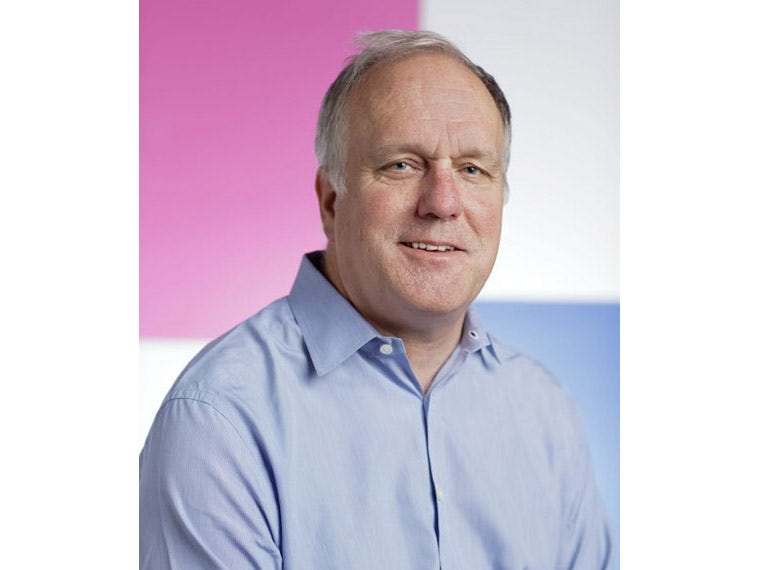 We recently talked to Vice President Mike Harney about the company and this unique collaboration with The Met. Following is a brief Q & A, edited for space.
Your dad, John Harney, established Harney & Sons in 1983. How did he get into the tea business? Our father was running a small country inn in Salisbury, Connecticut. A third-generation English teaman, Stanley Mason, had retired to our quiet corner of the state after selling British teas in London, and he convinced our father to start carrying tea at the inn. In 1983, John struck out on his own to start Harney & Sons (though his sons didn't join the business until a few years later).
You and your brother Paul now carry on your father's legacy along with family members. What makes a family business different from other organizations? Like most businesses, we try to make money; however, we do balance other aims. Thus, we try to be very fair to our customers by offering the best teas at reasonable prices, and we take good care of our employees. One percent of sales goes to environmental causes—not many ordinary corporations give away more than $3 million to such causes. Finally, we try to keep John's dream alive: making tea drinking an everyday luxury for generations to come.
Where does Harney & Sons source its tea? What makes tea different from region to region? We source our teas from the best places they are grown, which is different for each tea or herbal. Like with wine and its terroir, there is a best place to grow many teas. The climate, elevation, and type of tea plant varies, and the traditions of growing and processing tea leaves varies tremendously.
So, we have to look at all these factors. We might get the best sencha green teas from Uji in Japan. Or chamomile flowers from Egypt, since they make the sweetest chamomile. We like black teas from Changsha in Hunan province, China, as the base for our flavored black teas: they taste sweet from abundant sunshine, feel full in your mouth, and are neutral, so we can add various flavors.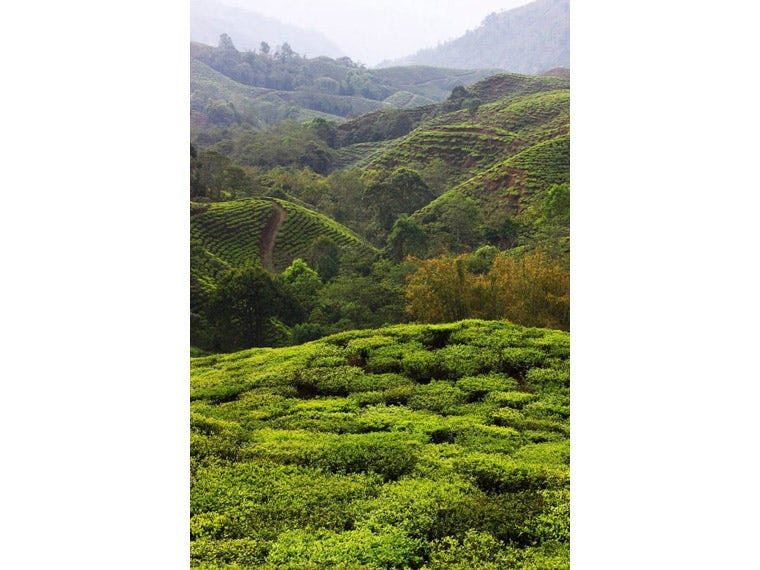 You produced a Royal Wedding Blend for the British royal family. What was in it? The blend was commissioned for the wedding of Kate and Will back in 2011. It is a blend of white tea from China, pretty flowers, and coconut and vanilla flavors.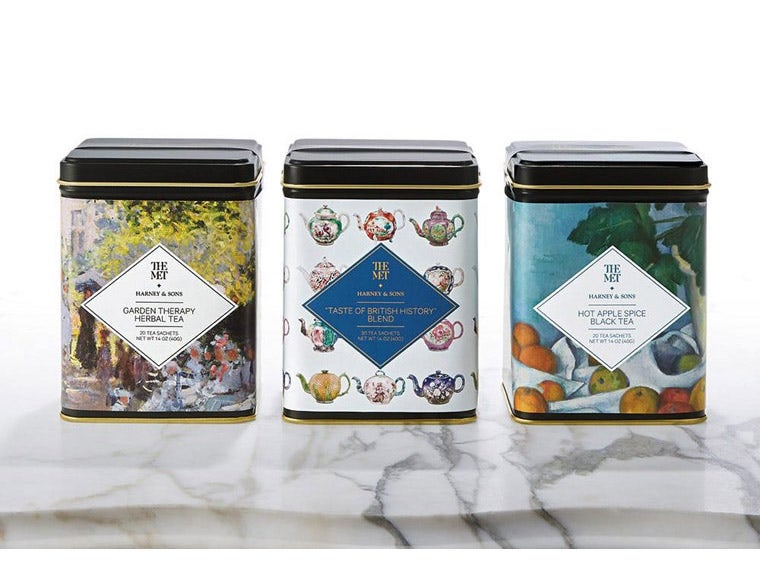 Tell us about the three Harney & Sons teas now available at The Met Store. When The Met's British Galleries were about halfway renovated, The Met commissioned us to do a tea for the reopening of those galleries. I was given a tour, and was so impressed by the new look and the art collections that will be housed there. I loved the teapot collection and said let's have a tea label with those teapots. And since the galleries cover many generations of British art, our special blend became a "Taste of British History."
We then added the Hot Apple Spice tea with a painting by Paul Cézanne, and the Garden Therapy herbal blend with a painting by Claude Monet. My French wife [Harney & Sons manager and buyer Brigitte Harney] was very happy!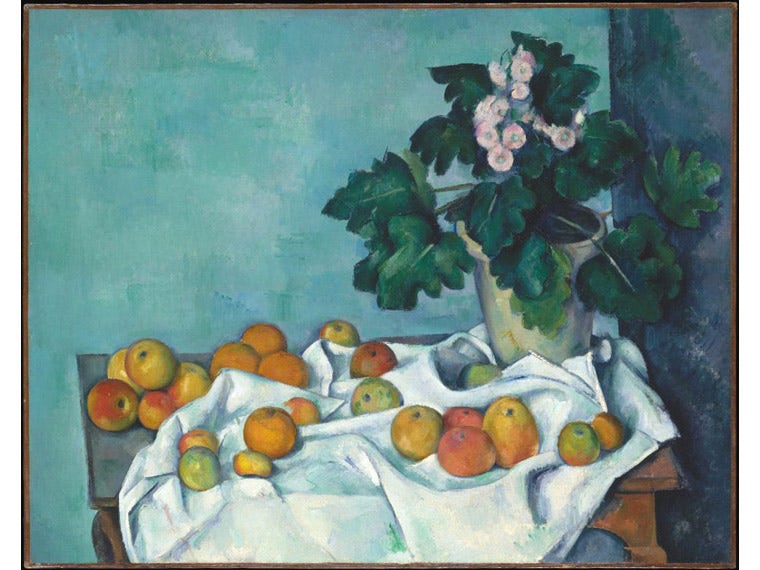 You created the "Taste of British History" blend just for us. What makes it unique? We wanted this tea to cover the early days when the British first started trading tea in Canton, China, and also to pay homage to the most famous British tea, Earl Grey. So, we made a blend that includes some green teas (that is what was originally exchanged in China) and a black Earl Grey. It came out quite lovely.
Do younger customers prefer different tea flavors compared with more traditional tea drinkers? Yes, tastes are changing. Where the British and many Americans favored a strong, dark tea with milk and sugar, there is now a demand for flavored teas like your Hot Apple Spice, or caffeine-free options like the Garden Therapy.
Just what is it about "a nice cup of tea" that people find so comforting? Ever since the Chinese started brewing and drinking the green leaves of the tea plant, people have enjoyed this brew. It may have started as a medicine for an upset stomach, but it became a medicine for the soul. Now it is the second-most consumed beverage in the world after water. As the British say, all can be solved by a cup of tea!
Shop our Harney & Sons teas and other tea-related designs at The Met Store.