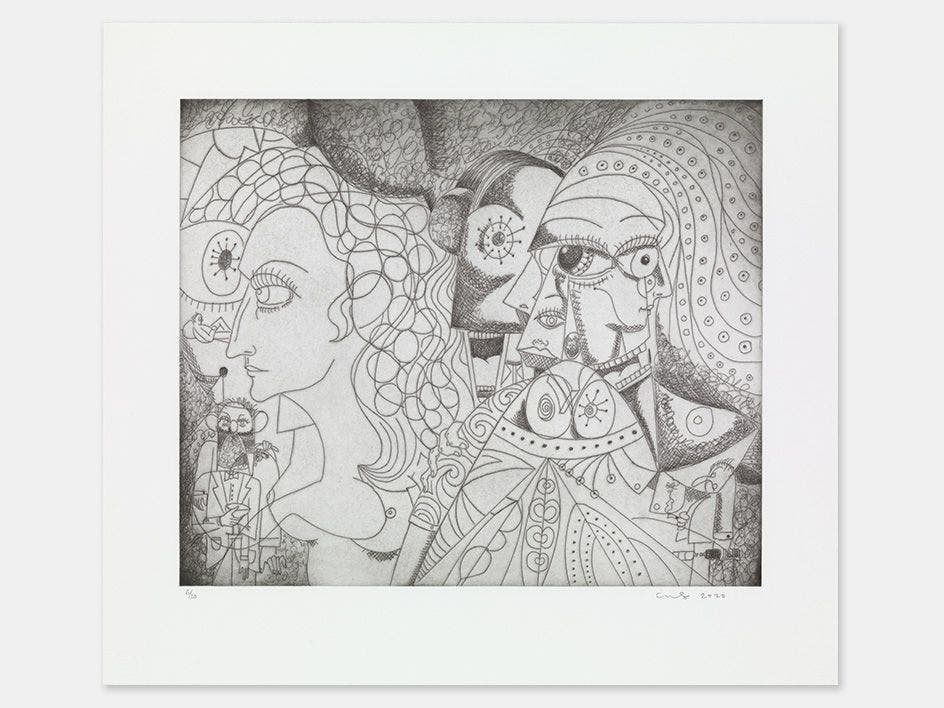 The Gallery at The Met Store, formerly known as the Mezzanine Gallery, is delighted to have recently sold A Midwinter's Daydream (2020), a limited-edition etching by the acclaimed painter, printmaker, draftsman, and sculptor George Condo (American, b. 1957). Made exclusively for the Museum and Art&Newport, a Rhode Island–based public art program founded by the esteemed arts writer Dodie Kazanjian, this exuberant print belongs to an art-meets-music initiative developed by Condo during the COVID-19 pandemic.
"After realizing the pandemic had literally silenced the musicians and all the great music halls were closed, the idea came to me that perhaps a donation of etchings to The Met, with whom I have worked very closely—especially in the Department of Drawings and Prints—could [coincide] with [a concert organized by] Art&Newport…to provide musicians with a platform in the Museum, [where they could] choose locations that suited the music they were playing," Condo recalls.
In early 2021, Condo invited classical violinist Leila Josefowicz to play to the backdrop of her choosing at The Met. In a gallery featuring Mark Rothko's (American b. Russia, now Latvia), 1903–1970) No. 3 (1953) and Jackson Pollock's (American, 1912–1956) Number 28, 1950 (1950), Josefowicz performed "A Linea Evocativa (2020) A Drawing for Violin Solo (Dedicated to George and Leila)," a new piece commissioned by Condo from the German composer Matthias Pintscher.
"I continued the initiative [at] Bard College, where my daughter studied, and was able to have this dream progress to become known as 'The Condo Concerts,'" the artist explains. "Many artists will benefit from this donation [of etchings] and I'm very pleased to see that it could go from being an idea to a reality."
A Midwinter's Daydream, which riffs on Shakespeare's comedy, A Midsummer Night's Dream, exemplifies Condo's singular style: gaping eyes and Cheshire-cat grins characterize the carnivalesque portraiture for which the artist is celebrated. Throughout his extensive career, Condo has conjured the art history pantheon, from Old Masters such as Giuseppe Arcimboldo (Italian, 1527?–1593) and Francisco de Goya (Spanish, 1746–1828) to legendary modernists Henri Matisse (French, 1869–1954) and Pablo Picasso (Spanish, 1881–1973), all of whom—including Condo—are represented in the Museum's holdings.
"A Midwinter's Daydream is the second etching publication that The Gallery at The Met Store has done with George Condo," says manager Laura Einstein, who's tasked with acquiring editioned artworks that are in dialogue with The Met collection. "The first etching publication was Renaissance Musicians (2019). I really like the physicality of A Midwinter's Daydream. I think the two etching publications bring his work full circle and provide a beautiful connection to his paintings in The Met collection."
The Gallery at The Met Store is accessible to visitors during Museum hours, and is currently operating by appointment only. Please call Laura Einstein in advance at 212-650-2908 or email Laura.Einstein@metmuseum.org