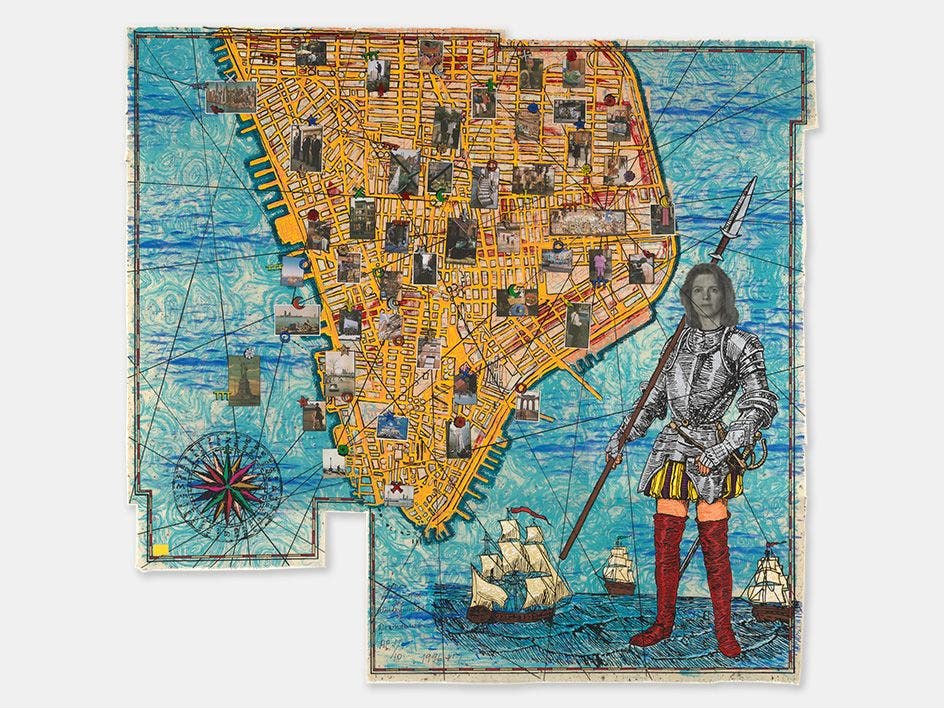 The Gallery at The Met Store, formerly the Mezzanine Gallery, is delighted to present for sale The Wonderfulness of Downtown (1996–97), a limited-edition lithograph by the acclaimed painter, photographer, and mixed-media artist, Jane Hammond (American, b. 1950).
The Wonderfulness of Downtown riffs on the centuries-old practice of cartography with a map of Lower Manhattan, flanked by a compass and fleet of ships. Lording over the image is a woman wearing the costume of a conquistador, but she's not a conqueror in the traditional sense of the word.
"All cartographers and map users, with rare exceptions, were men," Hammond explains. "My map is made by a woman and shows a woman explorer. It depicts the familiar—my home, Lower Manhattan—and it depicts it 'by feel.' Streets are not named, and the drawing isn't precise. The photographs, taken roughly where they are located on the map, depict incidental, particular, everyday things: a reliquary for a dead bird at Tompkins Square Park, three Dominican men outside a funeral home, a colorful hand-painted dragon boat that was moored in the Hudson for a while, a cat sitting on my front steps. The things the world is made up of."
The Wonderfulness of Downtown is personal, thereby inverting the conventions of cartography altogether. "Most maps were made for sailors and explorers," Hammond says. "People don't need a map of home—they need a map of the unfamiliar. Usually, it was about conquest or, at best, trade. The features the old maps describe are permanent, or perceived as permanent, and the attempt is to be as precise as possible. So I thought it would be interesting to turn that all around."
Playful subversion is a hallmark of Hammond's extensive career, characterized by deeply complex imagery teeming with personal, historical, artistic, and literary references (for nine years, the American poet John Ashbery named her paintings). Scrapbook (2003), an encyclopedic assemblage of found objects, is one of several pieces by Hammond in The Met collection.
"This work of art honors downtown Manhattan in an evocative and compelling way—how wonderful that a resident can find its beautiful and singular energy in a large-scale work," says Laura Einstein, who manages The Gallery. "Hammond is also heroically establishing herself—through printmaking—as an intrepid voyager through the singular spots of a vibrant area in New York City."
The Gallery at The Met Store is accessible to visitors during Museum hours, and is currently operating by appointment only. Please call Laura Einstein in advance at 212-650-2908 or email Laura.Einstein@metmuseum.org