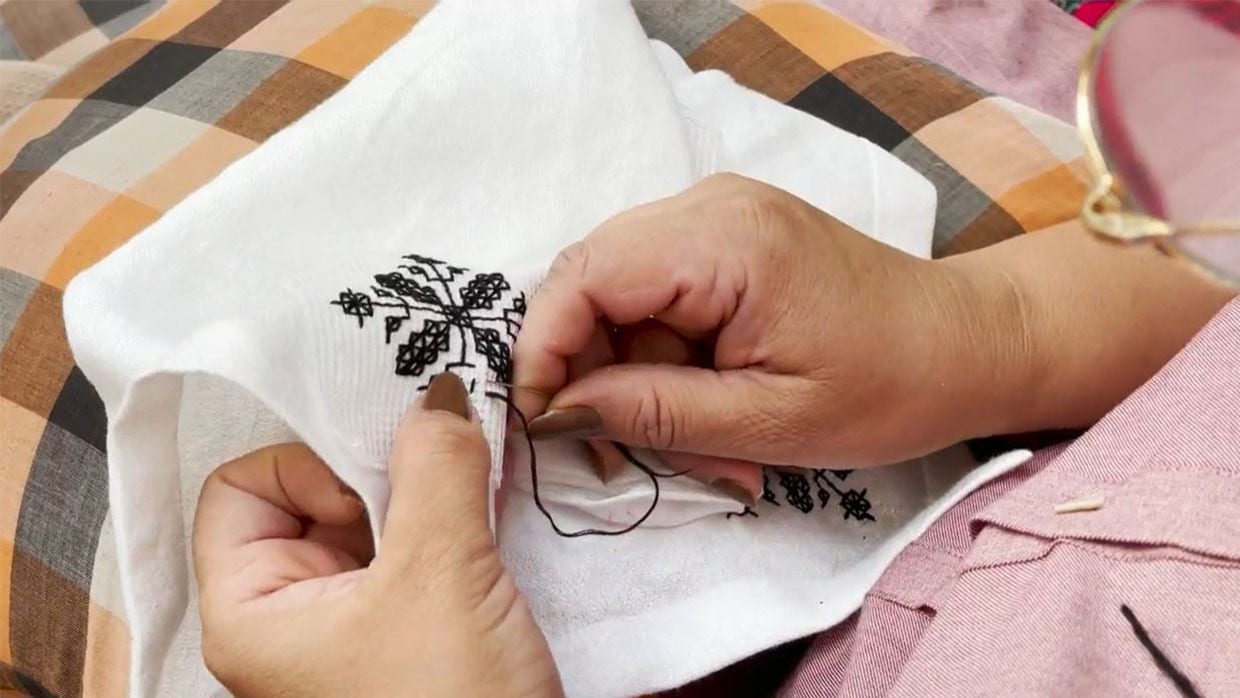 Patricia Kahane founded AlNour, which means "the light" in Arabic, in 2013, with a mission of providing disabled women the opportunity of a self-determined life rooted in dignity and independence through the traditional Moroccan art of embroidery. The company provides its employees support to ensure a high quality of life, including providing health insurance and a retirement pension.
The Met partnered with AlNour as part of the Heirloom Project to create a collection of embroidered home accessories inspired by the gardens of The Met Cloisters and the Museum's Islamic Wing. We spoke with Patricia to learn more about the mission of AlNour and the collaborative process of creating these beautiful new designs.
What inspired you to create AlNour?
In 1995, I came to Marrakesh for the first time with my children, at the end of a road trip around almost the whole country. My visually impaired daughter Lilli, who was then five, totally fell in love with the city, so we returned many times. We eventually bought a house in the Medina, in the old city.
We spent winters and vacations here, partly home-schooling. Being in Morocco no longer as a tourist, you see things from a new perspective, and you realize how different the life of the locals is. One thing that struck me while walking the streets in the Medina were the women with babies begging in corners, and the many disabled people trying to travel around with rickety wheelchairs and make-do crutches.
An English friend took me to a shelter for disabled men who were also doing decorative metal work. After a few visits, I felt I wanted to do something similar for women with disabilities.
Looking for a way for them to earn a living in dignity and a measure of security, I thought of what they could do. Traditional Moroccan embroidery was found everywhere around the markets, which made me think this skill could be a starting point for a social project.
The next step was to find a suitable place to rent—which wasn't easy, because who wants a group of disabled women as tenants? Then we had to build ramps and accessible bathrooms.
During this time, the concept became much clearer: what we needed was a day-care facility with the possibility for the women to be employed and produce something which one could sell. I started to develop some designs for table linen and home accessories.
As soon as the workshop was ready, the first group of eight women came from a foundation where they were doing embroidery all day long for a pittance; they even had to contribute part of their meager income for their lunches.
Our workspace had a tiny showroom and, step by step, customers started to come in to buy the embroidered items, and more and more women applied to join us.
Today, AlNour employs 40 people, 38 of them women, 32 with a disability, and we have a beautiful, light-filled, totally accessible building as well as a boutique onsite.
Can you tell us about the mission of AlNour?
The main mission is to operate a social enterprise that combines wonderful local artisanship with a day-care center for women with special needs. We provide a modern, accessible space; a functioning organization; and most important, real jobs, meaning regular employment with health and retirement benefits.
But just as important are the individual stories of each of them, how they grew up, how their families could support them, if at all. Some were living "hidden away," some could go to school, and a few got their high-school diplomas. Today some women are married—having become desirable matches with a secure job and social security. I do not call them embroiderers but embroidery artists!
Mina, for instance, is missing most of her fingers and has some mobility issues. She is one of the best embroidery artists in the group. She embroiders all the prototypes for our own and our clients' new products, and does much of the pre-tracing on the fabrics for her colleagues in production to embroider. Mina is also very creative and is working on an archive of techniques and designs when she finds the time. She and her husband, who is a tailor, adopted a baby girl two years ago, and it is admirable how she manages her job and the family.
Tamou cannot work with needle and thread, so we trained her to do the ironing in her wheelchair, and she does the most beautiful, intricate fringes
Our secretary Noura is a short person, always cheerful and so elegant! She has her clothes and shoes made to measure, and we adapted her workplace so she can work well on her computer.
Fatima is very quiet. She spends her days in the shop as an assistant, and we regularly find out what more she can do: crochet, macramé, different needlework techniques. She is very creative and contributes many new ideas based on her "secret" skills.
What is so wonderful to witness is the atmosphere. One can feel how content the women are to be at AlNour, there is a lot of gratitude and solidarity and a lot of very concentrated work. In the large room under a glass dome, you hear chatting, sometimes music from the radio, phones ringing, and if someone puts down her prayer carpet the others quiet down so as not to disturb.
It is so inspiring to hear about the accommodations you have made to tap into the unique skill sets of your team members. Can you tell us about the training that your artisans receive?
Most women come with basic or some advanced expertise in embroidery. They receive training in the different techniques we use, cross-stitch, chain-stitch, full stitches, and the motifs we use until their skills are at a stage where they can enter the production process.
A few younger women who joined us recently have received full training. One of them is deaf-mute and very talented. She started from zero a year ago—and is now a pillar of our embroidery production!
At AlNour we also provide training in basic reading, writing, and math skills for those who did not have the opportunity to go to school. We also teach languages and computer skills, as well as learning how to work and collaborate in a professional context.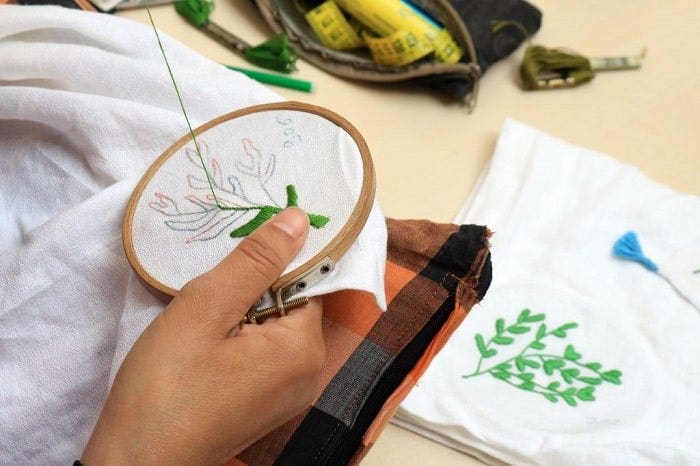 Can you tell us about how a typical piece is made?
Our product palette includes home linens (table, bed, bath, kitchen); clothing for women, men, kids, and babies; and accessories. Typically, we start with very high-quality fabrics in natural fibers (cotton, linen, wool, silk, cashmere), and we design products that interpret the local arts of traditional embroidery with modern patterns, shapes, and designs.
The designs for The Met came from Madeline Weinrib. A couple of years ago I met Madeline in our shop. It was one of these unexpected special encounters that developed into a friendship on one hand, and a collaboration on the other
At first, she designed some products for the Riad ElFenn shop in Marrakesh. We continued discussing product ideas and designs over time. When Covid hit and we could not travel, Madeline initiated the collaboration with The Met. She developed the beautiful herb and flower designs for the table linens and lavender sachets. As a first step we made samples of all the items. Then they went through the approval process with The Met Store team.
Can you tell us about the process of working with The Met and Madeline Weinrib?
Working with Madeline is an inspiration. It is a pleasure for all of us, both for me as founder of AlNour, who is also doing some of the designs, and for the embroidery artists who love working on new designs. For us it is a big step towards professionalization and working with international designers. And of course, we are all very proud of having been chosen to work with The Met!
Have you visited The Met? And if so, do you have a favorite gallery, exhibition, object, or experience that you can tell us about?
Yes, I have visited The Met every time I have come to New York. The time I loved most was when the Egyptian galleries had a special exhibition area for people who are visually impaired (or blind). My daughter Lilli, who has vision of only 10%, explored the exhibition and for the first time in her life could literally touch the works of art.