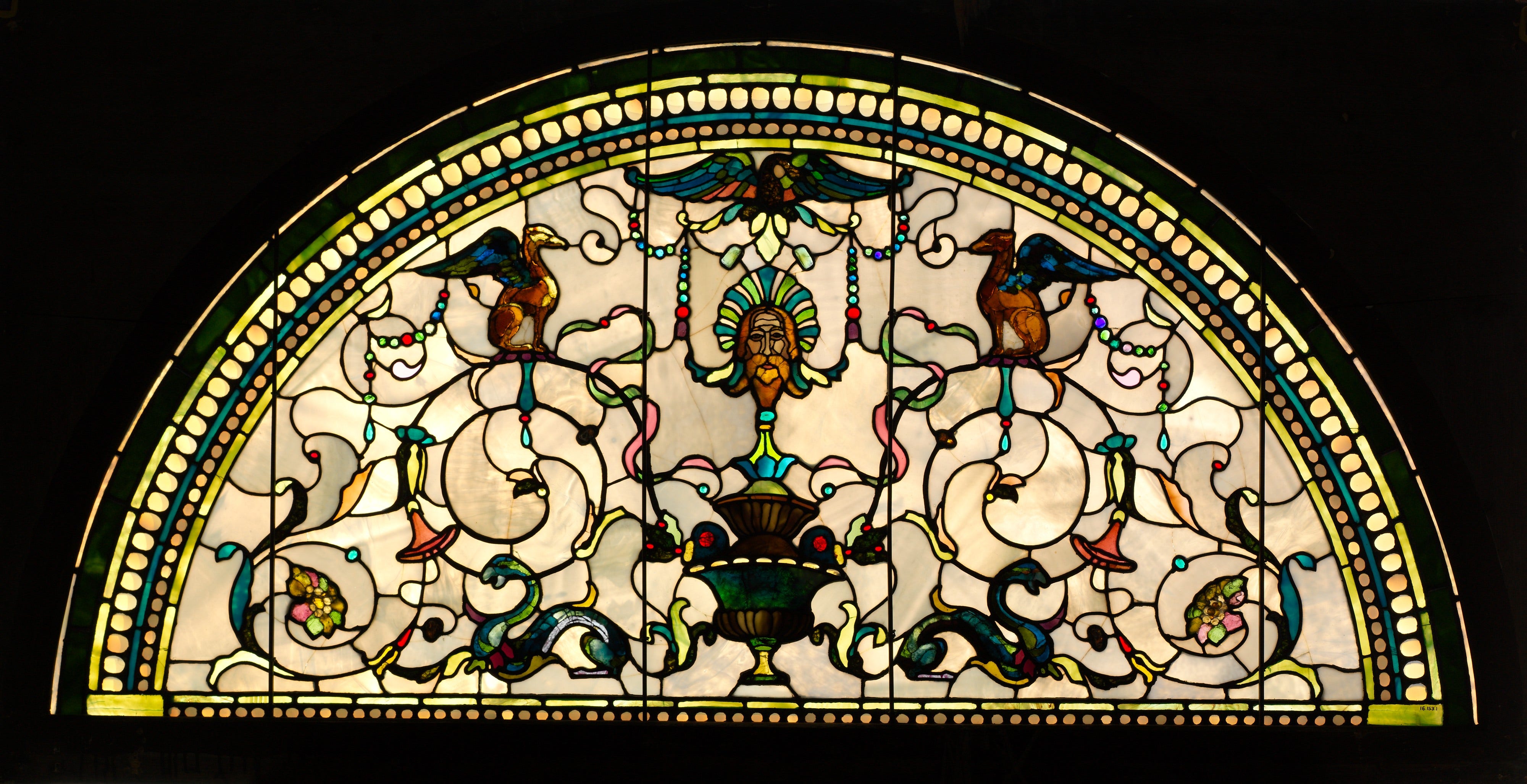 Louis Comfort Tiffany (American, 1848–1933) is a fan favorite at The Met, celebrated for the eye-catching iridescence of his Favrile glass windows, vases, and lampshades. Named after the Old English term fabrile, meaning "handwrought," Favrile is the dazzling result of blending colors while glass is in its molten state. From his iconic Favrile window Magnolias and Irises (ca. 1908), which we've adapted into a silk scarf and enamel bangle among other stylish accessories, to a Favrile vase (ca. 1900) bearing a peacock-feather motif reimagined on our best-selling wool-blend shawl and decorative accents for the home, the Gilded Age visionary produced innumerable feats in the medium—but they weren't unrivaled.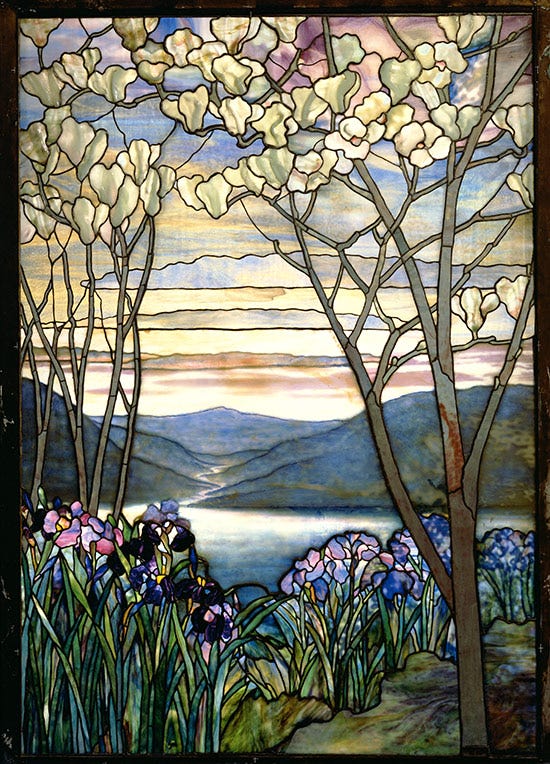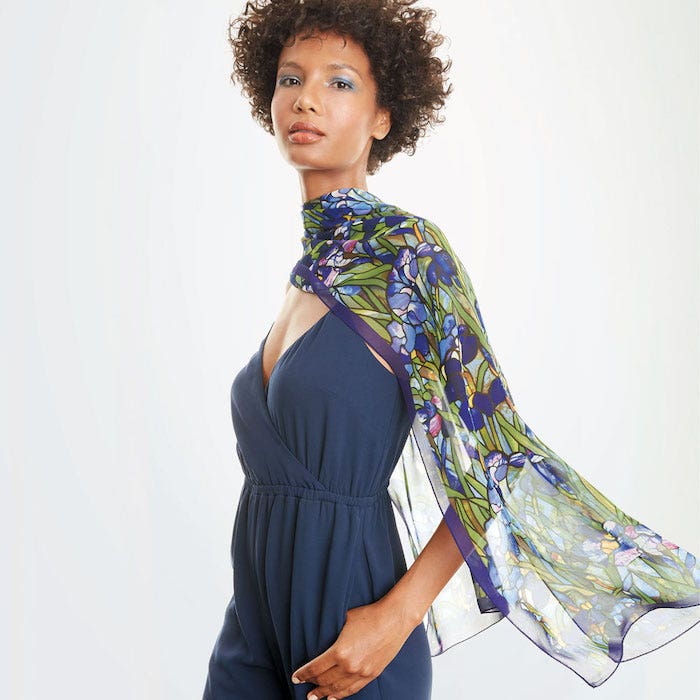 John La Farge (American, 1835–1910) was an equally versatile artist who achieved renown as an accomplished painter, illustrator, muralist, and stained-glass designer. In the 1870s, well before the invention of Favrile in the early 1890s, La Farge was experimenting with "opalescent" glass, named for the way it shimmers like a fire opal. Opalescent glass was used to make decorative objects, but no artisan had yet applied its ethereal qualities to stained-glass windows. It became La Farge's mission to dispell the air of prejudice around the decorative arts; in 1902, he wrote, "Window decoration is the art of painting in air with a material carrying colored light."
The Museum is the proud steward of several opalescent glass triumphs by La Farge. On view in Gallery 743 in the American Wing is Peonies Blown in the Wind (ca. 1880), a jewel-toned spectacle crafted for the Rhode Island residence of Henry Gurdon Marquand, who served as president of The Met between 1889 and 1902. Color saturated and teeming with textures, it was the first in a series of at least seven windows illustrating the theme of wind-blown peonies, inspired by Chinese and Japanese handscrolls and porcelains.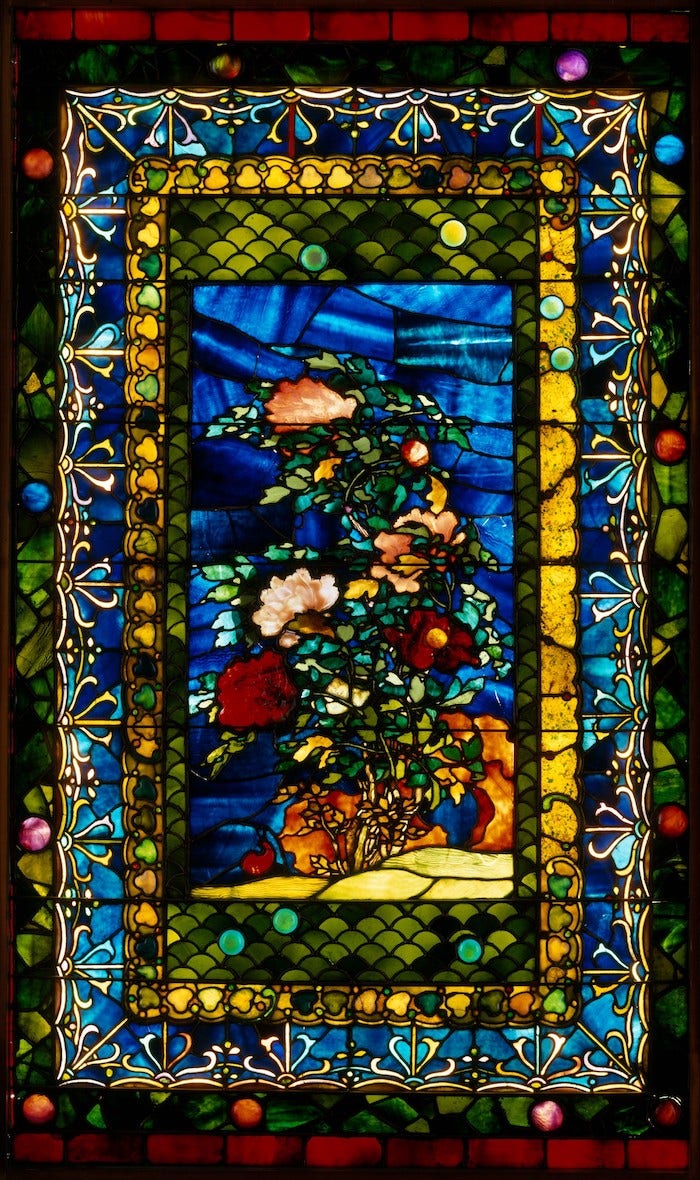 La Farge was one of the first artists to appreciate and adapt Japanese aesthetics after the nation's ports—long closed off to most of the West as part of sakoku, an Edo-period policy of isolation designed to limit foreign influence—reopened in 1853. Suddenly, fabulous ukiyo-e artworks, kimonos, fans, lacquers, bronzes, and silks flooded into England, France, and beyond, conjuring a craze known as Japonisme.

A New Yorker born to affluent French parents, La Farge was in Paris by 1856, just a few years after sakoku ended. He initially pursued law while he casually dabbled in oil painting, but soon pivoted to embrace art as a profession. He studied with the French history painter Thomas Couture before returning to New York City and renting a space in Manhattan's legendary Tenth Street Studio Building, where artists such as Martin Johnson Heade (American, 1819–1904), William Merritt Chase (American, 1849–1916), and Winslow Homer (American, 1836–1910) also worked (shop our Winslow Homer collection). There, he made the acquaintence of the building's architect, Richard Morris Hunt, and in 1859, he went to study with Hunt's brother, the painter William Morris Hunt (American, 1824–1879), in Newport, Rhode Island.
La Farge went on to produce magnificent windows for churches—including Trinity Church in Boston and the Paulist Church in New York City—as well as private patrons. Radiating from within the light-bathed Charles Engelhard Court at The Met is La Farge's Welcome (1908–9). Commissioned for Mrs. George T. Bliss's home at 9 East 68th Street in New York City, this spectacular window features a life-size woman with her right arm outstretched in a gracious gesture. With her left hand she draws back a curtain, which represents a Chinese embroidered textile owned by the Bliss family. The folds of her classical dress exemplify the cloisonné technique of joining small pieces of glass together for depth and dimension. The image is framed by exquisite decorative panels with garlands and other ornamentation reminiscent of wall paintings from the ancient Roman city of Pompeii. The artist completed the project the year before his death, and considered it "the finest piece of stained glass ever made."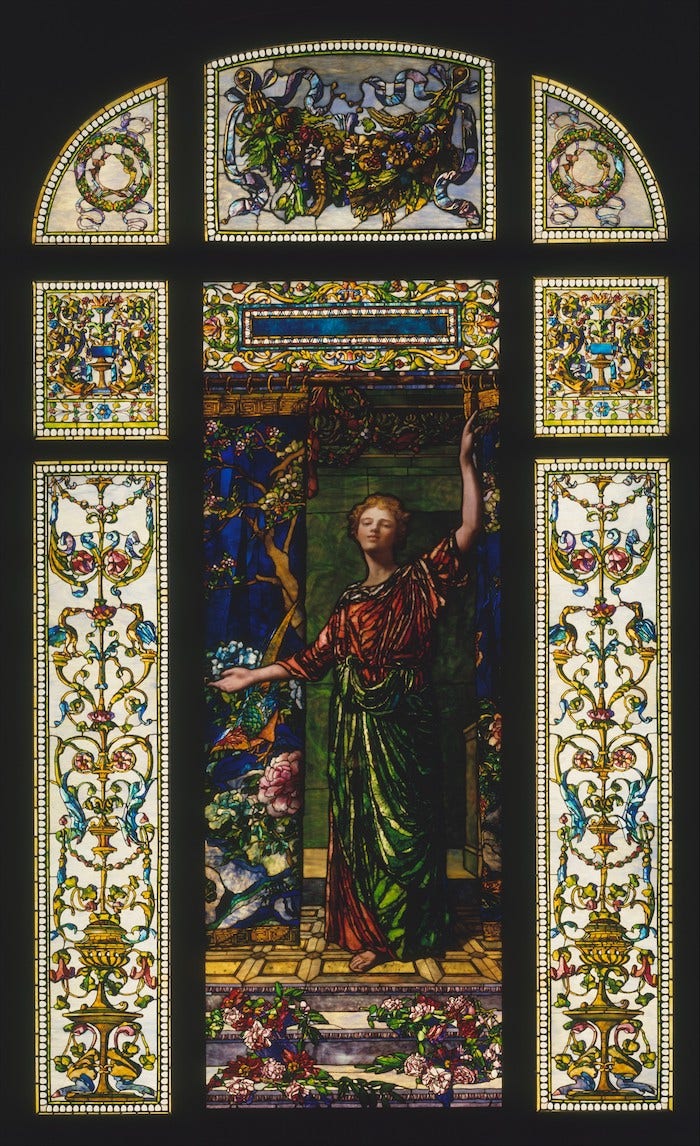 Shop our collections celebrating the decorative arts in-store and online, where you can also find artful pieces inspired by Louis Comfort Tiffany.