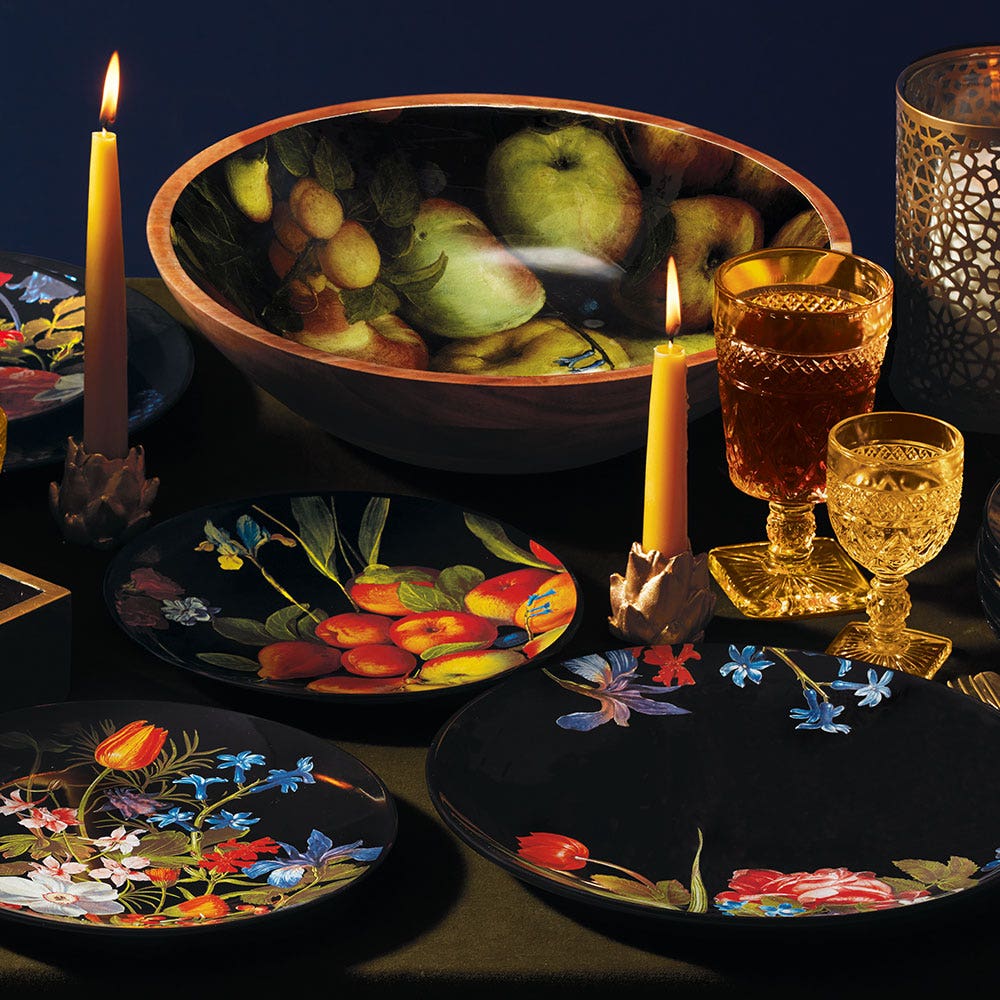 Still lifes by Orsola Maddalena Caccia (Italian, 1596–1676) and Clara Peeters (Flemish, 1587–after 1636) are far from still—their painted fruits, flowers, and tendrils seem to burst right out of the canvas. The skill displayed by these two artists is remarkable; however, still-life painting has historically been omitted from critical study and prestige. Due to institutional barriers preventing women from depicting more diverse subject matters, female artists were often relegated to painting arrangements of daily objects. Consequently, women have been largely excluded from art historical scholarship.
In celebration of The Met Store's Midnight Garden collection, featuring details from paintings by Peeters and Caccia notably added to the Museum's holdings in 2020, we consider the long-undervalued tradition of the still life.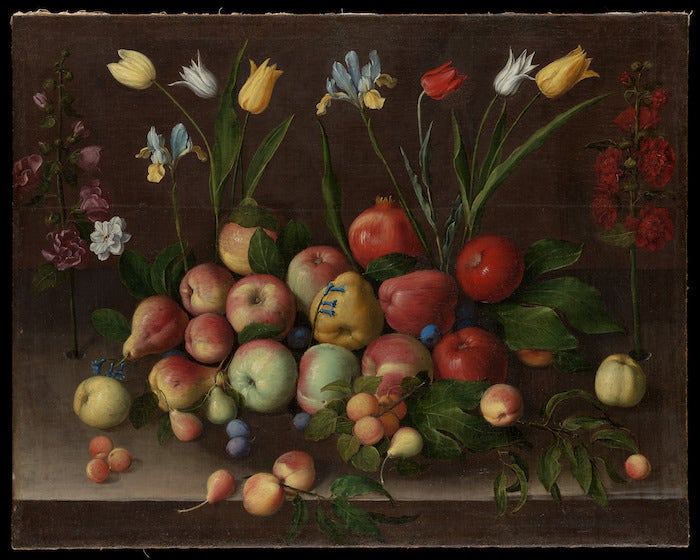 Orsola Maddalena Caccia was a Mannerist painter and Christian nun. She was the daughter and apprentice of the artist Guglielmo Caccia (Italian, 1568–1625), who ran a painting studio that supported a convent at Moncalvo in the Italian region of Piedmont. After her father's death, Caccia inherited his workshop and began producing works on canvas that depicted lively scenes of flora and fauna.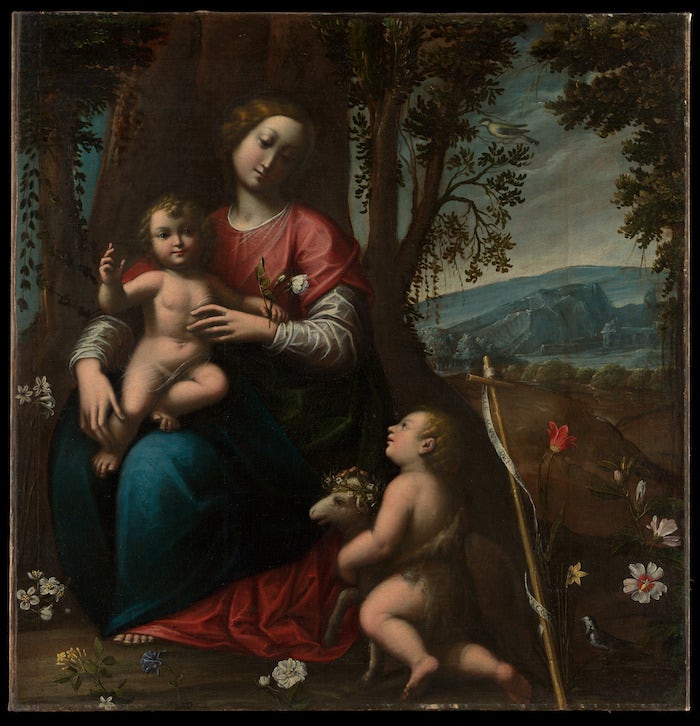 Her oeuvre also contains an impressive array of religious paintings with human figures, an atypical subject matter for female artists at the time. For centuries, women were denied access to live models and formal training. For this reason, Madonna and Child with the Infant Saint John the Baptist (ca. 1625) is particularly exceptional. Having been misattributed to her father due to the presence of the human body, the painting's three figures are now believed to be based on designs by her father. Yet the technical virtuosity displayed in Caccia's depictions of human subjects and the natural landscape showcases the talents possessed by the artist herself.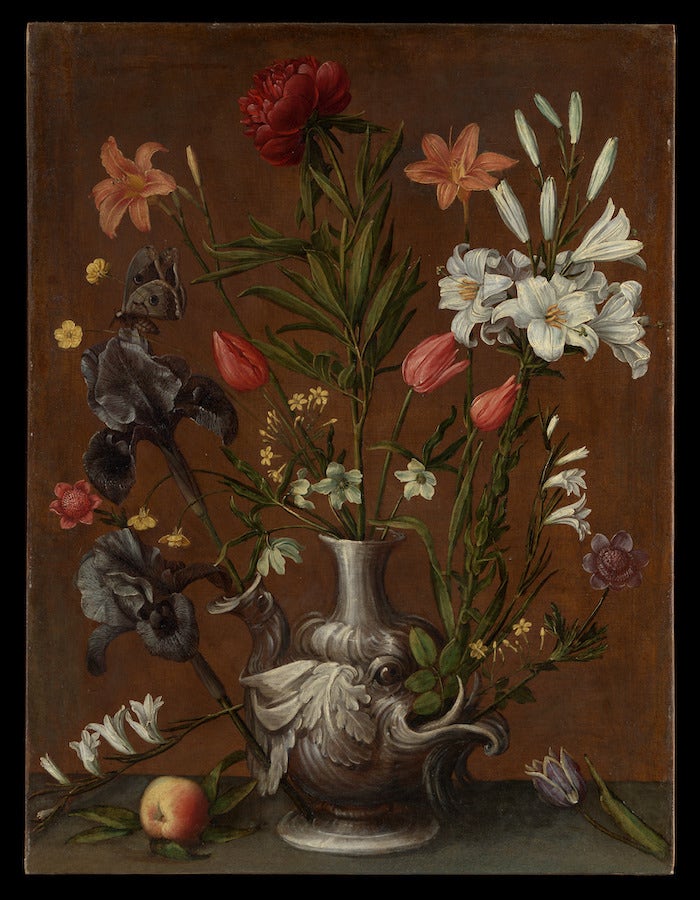 Flowers in a Grotesque Vase (ca. 1625) serves as a powerful example of Caccia's mastery of the still-life genre. Derived from her study of Northern European botanical prints, the lush foliage is rendered with painstaking precision. Laid out against a monochrome background, the many species of flowers abound in colorful and graphic patterns. This abstract reduction of form is made possible by Caccia's meticulous attention to detail.
Clara Peeters was another foundational figure in the history of European still-life painting. While the details of her formal training are largely unknown, her technique suggests a command of craft. Among the earliest painters of still lifes, she is regarded for her elaborate representations of flowers, foods, and household objects.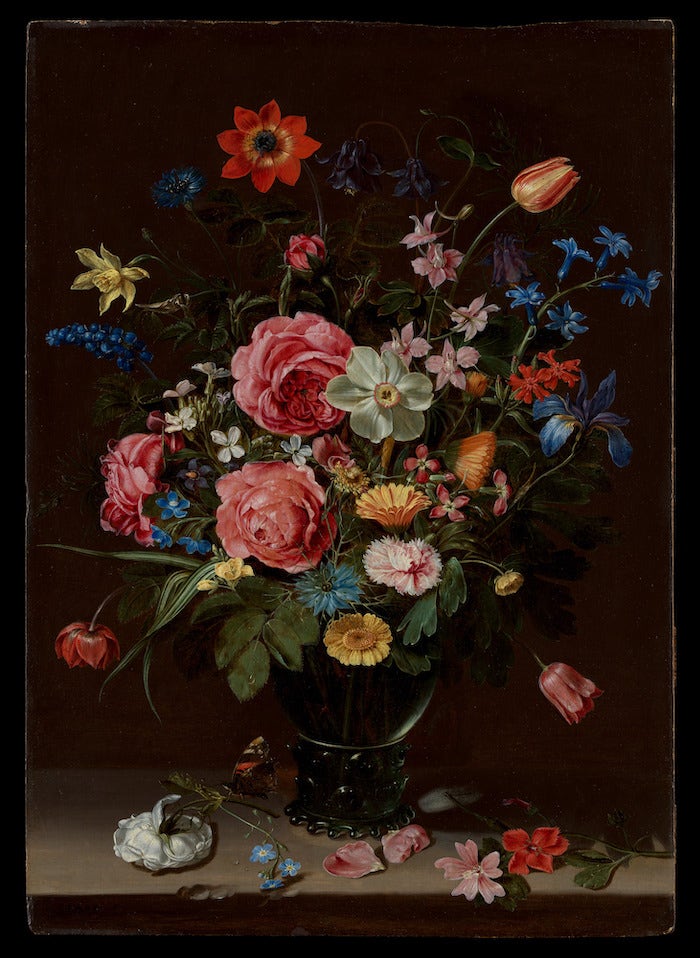 In the strikingly naturalistic A Bouquet of Flowers (ca. 1612), Peeters pays close attention to the minutiae of a flower vase and its contents. The vibrant colors and swirling tendrils cultivate a sense of rich sensuality and visual delight. But the painting also contains subtle allegorical motifs such as prickly leaves, insect bites, and wilting petals. These emblems of decay—or memento mori—suggest themes of transience and mortality. Such is the brilliance of this painting: Peeters has skillfully created a composition that serves as both a celebration of life and a reminder of the inevitably of death.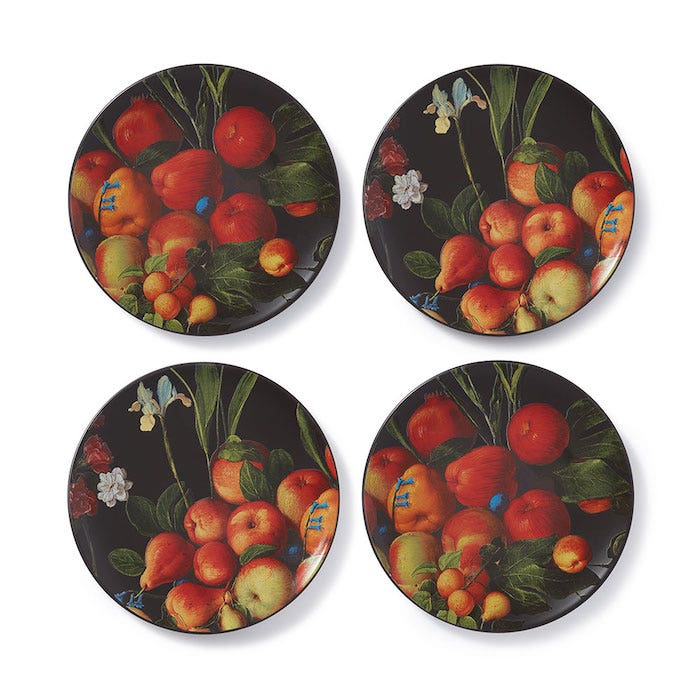 The Met Store is also delighted to introduce new decor and accessories inspired by Peeters's A Bouquet of Flowers. Shop our website or visit us in-store.