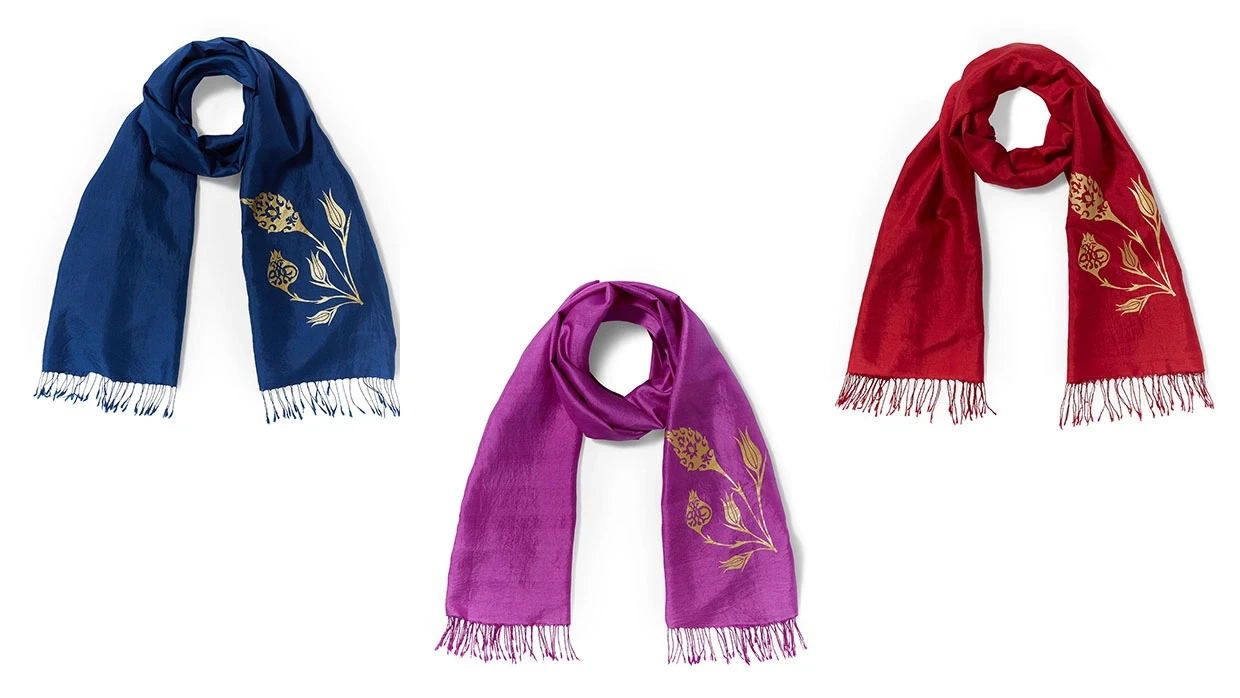 Kabul- and New York City–based label Zarif Design is on a mission to transform the way Afghanistan is perceived. With collections inspired by the nation's sublime landscapes, exquisite architecture, and rich heritage, Zarif is about celebration through design and empowerment through craft. Each unique garment is created by local weavers, tailors, and embroiderers whose traditions and talents are endangered by mass production, and reinterprets distinctively Afghan fashions for a contemporary clientele.
We're honored to have this opportunity to partner with Zarif as part of the Heirloom Project, in celebration of the 10th anniversary of The Met's reimagined Islamic Wing. We recently caught up with founder Zolaykha Sherzard to learn more about Zarif's philosophy and its community of artisans. Read our interview below.
Tell us about yourself and your brand!
I was born in Kabul, Afghanistan. At the age of 10, I left Afghanistan and became a political refugee in Switzerland. I graduated in 1994 from the School of Architecture in Lausanne and practiced as an architect for several companies in Switzerland, Japan, and New York, and taught Design Studio at Pratt Institute School of Architecture in New York (1998–2004). Before starting Zarif Design, I founded, in 2000, a not-for-profit organization called School of Hope to support education for girls and boys in central Afghanistan. This project allowed me to understand, within this context of the war the urgency and possibilities, to invest in the future of the new generation key to build the Afghan society.
Zarif [is] building peace through creativity. Creativity can play an important role in the reconstruction of a society that endured war and destruction. It is also a tool in building self-esteem and confidence for people who endured three decades of war and deconstruction. Creativity allows individual to connect to communities and become a bridge to communicate.
Using fashion to bring a positive image of Afghanistan that enhances the beauty that resides in its culture and its people. Through the making of clothing universal to many cultures, Zarif Design managed to reinvent the traditional clothes to a modern style and creates a brand that provides not only employment to women and men but also provides the artisans a sense of pride and identity based on the cultural heritage.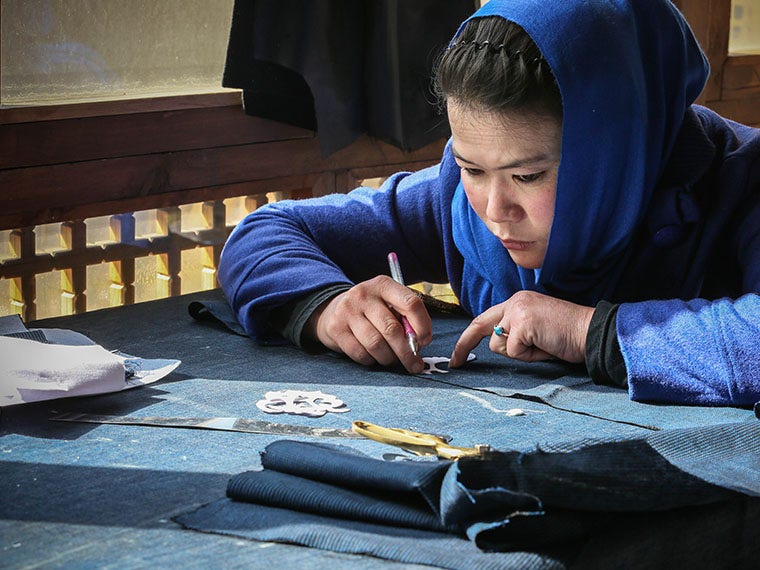 What's your philosophy as an artisan/designer?
At its core, Zarif acts as an ambassador, sharing the rich cultural heritage of Afghanistan and its people with the rest of the world. It's through creativity that we empower the makers, build the economy and peace.
Each piece is made by a group of talented artisans, each piece is unique, with ultimate level of care. It is a labor of love.
How does that philosophy factor into the items you produce?
Zarif is a social enterprise that supports artisans through the development of textile and practices the art of "slow production." We are able to source traditional fabrics from Afghanistan and Central Asia, the former "Silk Road," fostering fair-trade practices and the use of natural dyes. Our tailors, seamstresses, embroiderers, and weavers are given a place in which they can preserve their cultural traditions that are in danger of being replaced by mass-produced commercial goods. Zarif provides a platform where traditional, high-quality craftsmanship is a source of economic opportunity and personal fulfillment.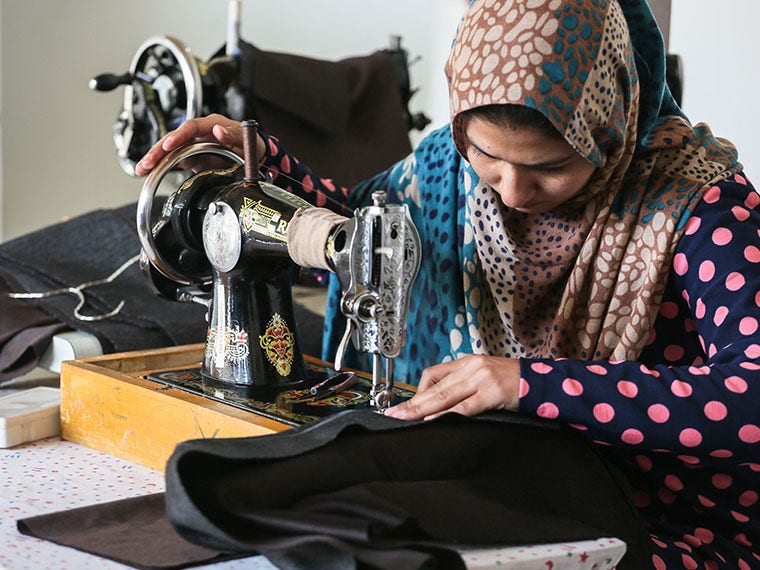 Can you talk a bit about your contribution to the Heirloom Project?
Zarif's contribution is to share through the work the resilience of the artisans, their humanity, and their talent.
What excites you most about the Heirloom Project?
To be part of a larger community of artisans and artists that inspires and celebrates our rich culture with the rest of the world.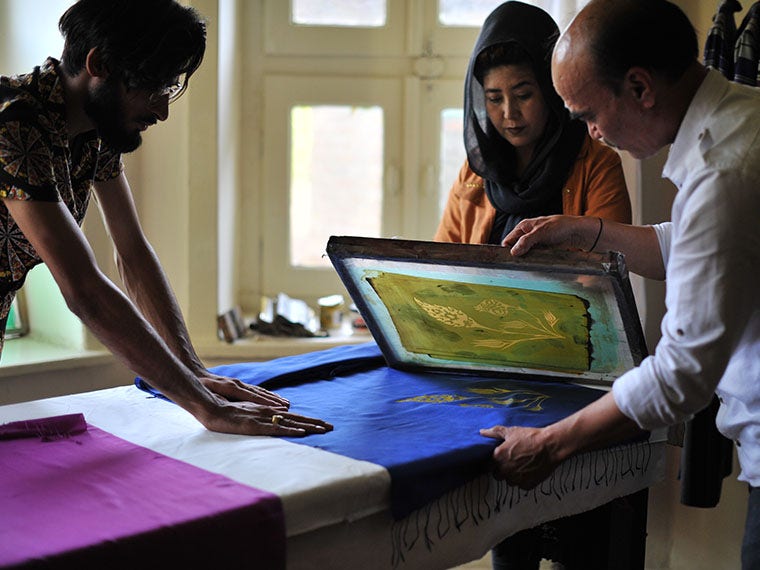 Is there anything in particular that you hope the public will learn from or appreciate about this initiative?
When people think of Afghanistan, they think of war, terrorism, extremist Islam, and poverty. Through the simple act of fashion, we counter this stereotype and show the rich heritage of the country, as crossroads of the Silk Road, as well as its modern sensibilities aspirations.
Moreover, it has become a tool for economic empowerment for women artisans but also refashioning fabrics traditionally worn by men into beautifully tailored clothes for women.
What's next for you?
Sustaining the artisans through our artwork and building bridges, collaborations. Keeping the awareness about Afghanistan, its people and culture.
The Zarif Design Islamic Floral Printed Oblong Silk Scarf is available online and at The Met Fifth Avenue.