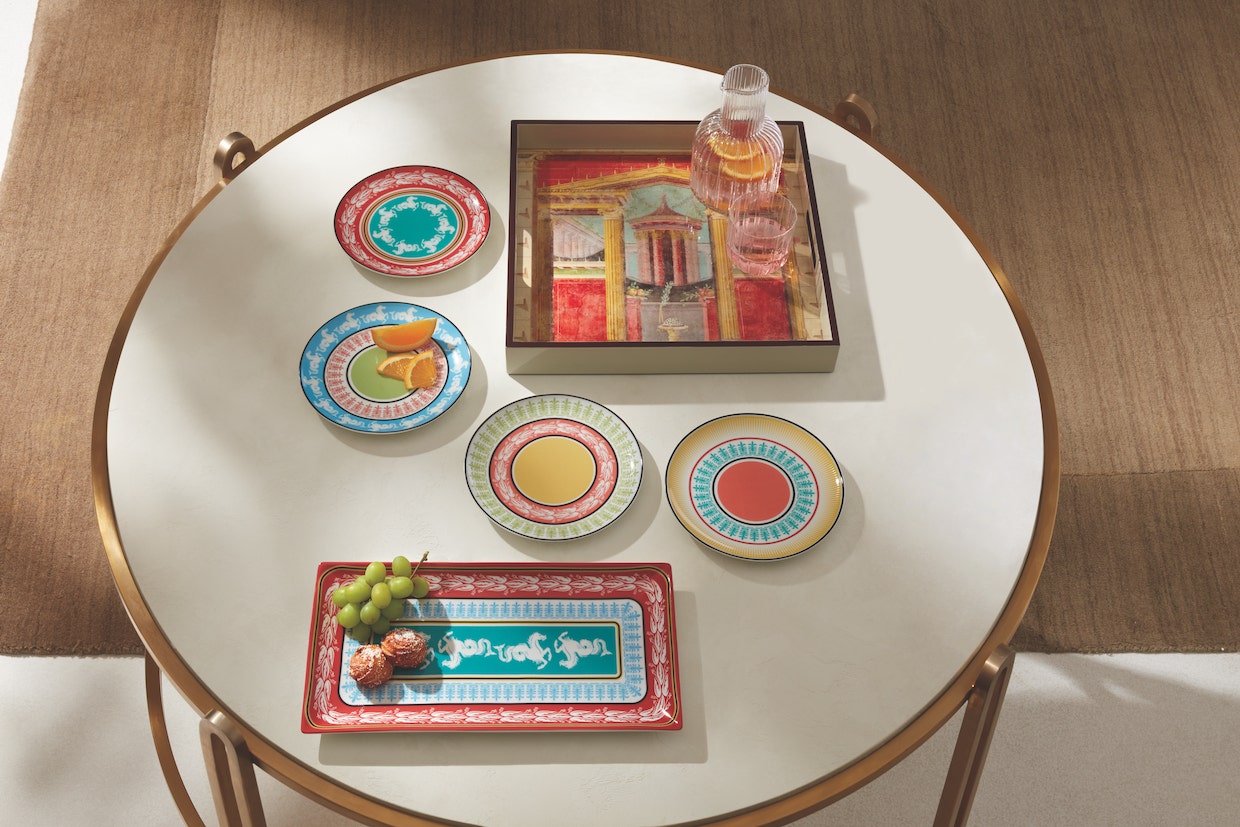 Juxtaposing now-achromatic ancient sculptures with contemporary reconstructions in vivid hues, Chroma: Ancient Sculpture in Color sheds new light on The Met's celebrated Greek and Roman art galleries. Now on view at The Met Fifth Avenue through March 26, 2023, this exhibition illuminates the monumental discovery of—and cutting-edge research into—color and other surface treatments on ancient works of art, while countering the social and aesthetic constructs born from common misconceptions and cultural traditions that equate white marble sculpture with ideal beauty.
The Met Store is delighted to present colorful new apparel, accessories, and tableware produced to coincide with this prismatic show.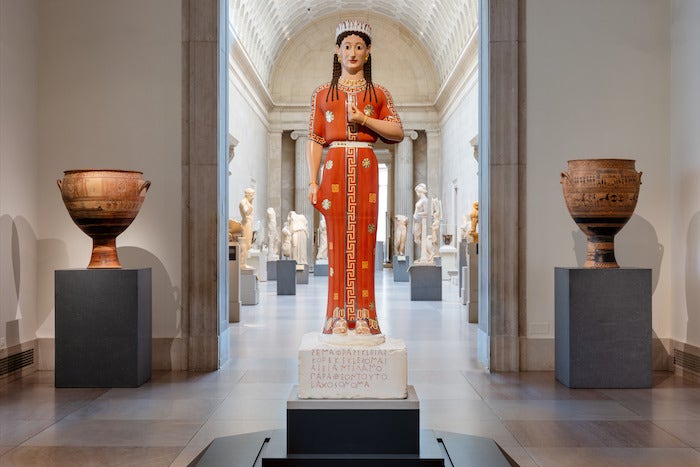 Polychrome Roman Portraits Home Collection
Ancient Rome meets the modern day in our eye-catching tableware, a fun and fresh interpretation of four Imperial-period portraits in the Museum's holdings. Boasting bold, high-contrast colors, this collection references the revelation that when classical sculptures were rediscovered, time had eroded the rich paint, gilding, and inlay that once enlivened their white marble forms.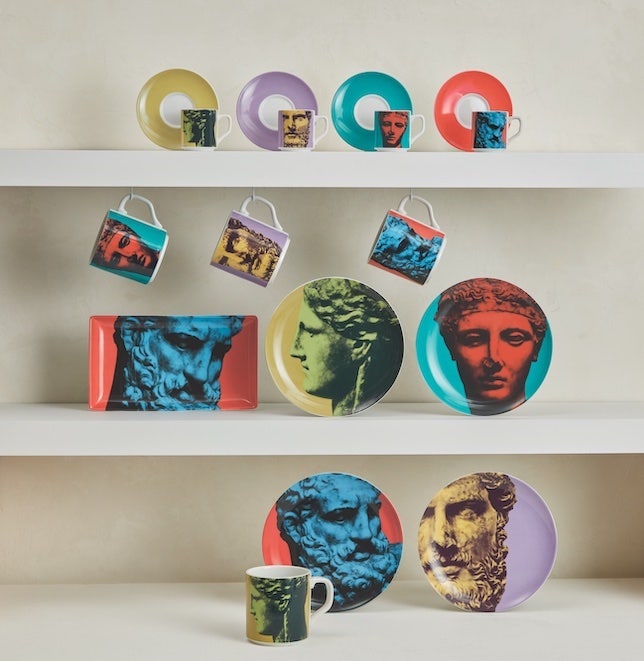 Greek Sphinx Tee
Part of a new line of unisex tees featuring ancient sculptures from the Museum's holdings in large scale and striking color, the Greek Sphinx Tee is emblazoned with the likeness of a sphinx, a hybrid creature said to possess the head of a human and the body of a lion. The mythological being was depicted in various forms throughout the eastern Mediterranean region from the Bronze Age onward.
The Greeks portrayed the sphinx as a winged female, often placed on grave monuments as a guardian of the dead. This Greek example (ca. 530 B.C.), which shows traces of red, black, and blue pigment, was carved separately from the capital on which it stands. See a brilliant recreation of this marble finial on view in The Met's exhibition.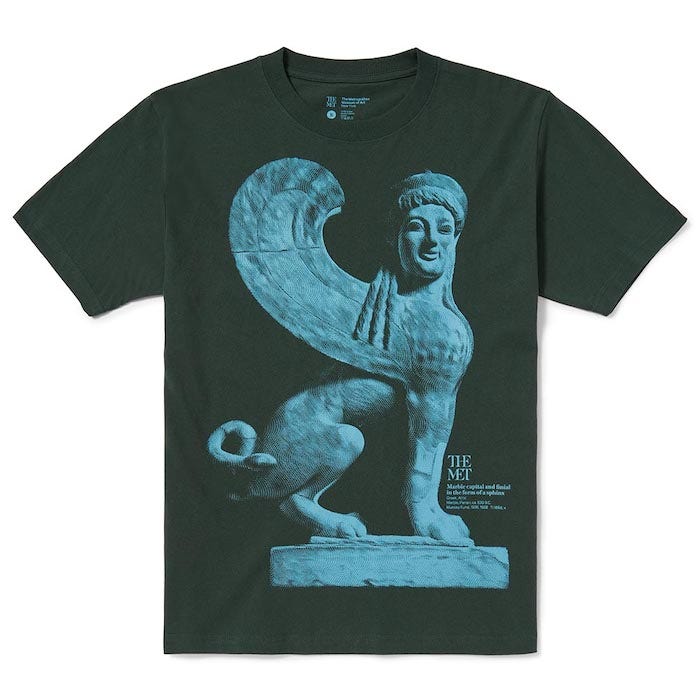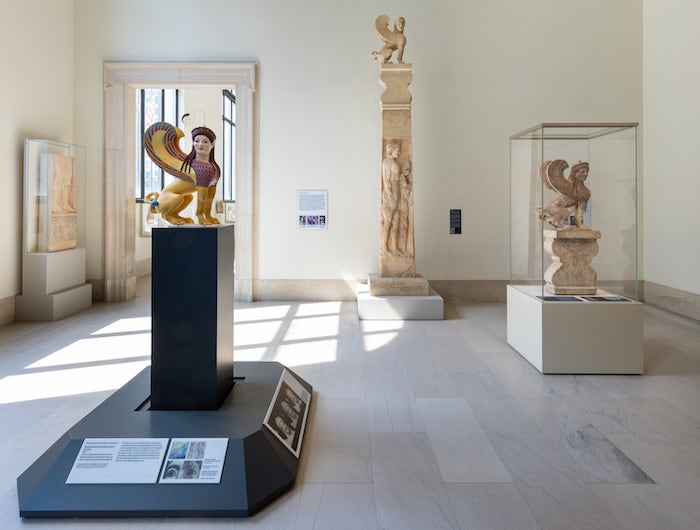 Reimagined Polychrome Motifs Home Collection
This timeless tableware borrows select motifs adorning the garment on an ancient Greek sculpture of a woman. Discovered in the peristyle court of a Hellenistic-period house on the Greek island of Delos, she's one of the few of this type—based on earlier Greek depictions of goddesses—with preserved color. The original sculpture has been carefully reconstructed by Professor Dr. Vinzenz Brinkmann, head of the Department of Antiquity at Liebieghaus Skulpturensammlung in Frankfurt, Germany, and polychromy expert Dr. Ulrike Koch-Brinkmann, from traces of vivid color and elaborate patterns embellished with gold foil identified in their research.